runs November 18 to 29 in Amsterdam venues. Until December 6 you can enjoy more than 200 documentary films and participate in discussions with filmmakers, protagonists, and experts. Screenings will take place online and in theaters.
Alina Gorlova won the IDFA Award for Best First Appearance (€ 10,000) for the German CoProduction THIS RAIN WILL NEVER STOP. "A striking, beautifully shot and edited film that embarks on the disaster of war through a personal journey and rocks the spectator between furtive moments of joy and pain. This moving film encompasses traditions, modernity, death, and the power of moving forward. This Rain Will Never Stop is a powerful story that does not allow us to escape from the destruction and heart-wrenching losses of wars," the jury reported.
November 26, IDFA announced the winners of the competition programs during the IDFA 2020 Awards Ceremony. The ceremony took place both in Amsterdam's Vlaams Cultuurhuis De Brakke Grond and online, making it available to viewers all over the world. With 10 more days to go, the on-site part of the festival, in cinemas and venues, was almost sold out. To date, IDFA has received over 62,000 online film views. IDFA 2020 welcomed more than 3000 online guests.
In presenting the complete selection of 258 titles, IDFA offers its unwavering support to the filmmakers and industry leaders who are fighting for the future of cinema. The festival also extends a call to act together and act now for the film industry that the world cannot lose—one that values high-quality exhibition as much as inclusion, transparency, and accountability. On October 28, the IDFA 2020 press conference took place via livestream from De Balie in Amsterdam. Missed the event? Watch the video to learn all about the festival program, including exclusive details of the competitions and opening film. 
GUEST OF HONOR GIANFRANCO ROSI The only filmmaker to win top awards at two A-list festivals with documentary films, Rosi's work will be in the spotlight at 33 IDFA 2020 with a Retrospective and a Top 10 program of his favorite films. The Italian-German-French coproduction, his latest longterm documentary NOTTURNO premiered September 2020 in Venice is part of this program.
IDFA COMPETITION FOR DUTCH DOCUMENTARY one of the eight  documentaries  from both emerging filmmakers and masters of documentary cinema is the Dutch/German co-production of Windmill& Bildersturm SILENCE OF THE TIDES by Pieter-Rim de Kroon and stunnig pictures by cinematographer Dick Harrewijn.
IDFA COMPETITION OF FEATURE-LENGHT DOCUMENTARY
12 films by some of the world's leading filmmakers are selected for the IDFA Competition for Feature-Length Documentary. The selection includes giants of documentary film, but also theater and visual art. The lineup's diversity is a force to be reckoned with, both in terms of regional spread and stylistic choices. With strong artistic concepts and bold formalist approaches, each title displays the mark of an auteur, from hybrid films to cinéma vérité. Such a selection, in this year especially, affirms the significance of documentary film for the world. • THE NEW GOSPEL by Milo Rau is a German/Swiss coproduction of a hybrid looking for the answers of questions such as: What would Jesus preach in the 21st century? Who would his disciples be? And how would today's bearers of secular and spiritual power respond to the return and provocations of the most influential prophet and social revolutionary in human history? With THE NEW GOSPEL, Milo Rau is staging a 'Revolt of Dignity'.
IDFA COMPETITION FOR FIRST APPEARANCE
cinema of feelings, a cinema of facts: The IDFA Competition for First Appearance explores both. The 12-title selection includes 10 world premieres and a notable presence of female filmmakers from lower-volume production countries, heralding a promising future for documentary film. The two German co-productions in this programm are
5 HOUSES | 5 CASAS | 5 HÄUSER by Bruno Gularte Barreto, 85min, Brazil, Germany, P: Vulcana Cinema, TAG/TRAUM Filmproduktion GmbH & Co. KG, Estranho Produções
THIS RAIN WILL NEVER STOP by Alina Gorlova, 104min, Ukraine, Latvia, Germany, Qatar, P: Bulldog Agenda, TABOR Production & Avantis Promo
In the MASTERS section, IDFA selects 18 titles from today's auteurs of documentary cinema, whose renowned names and careers never disappoint. Three of them are german documentaries as:
BEST OF FESTS with 30 films that lit up the selections of Berlin, Sundance, Cannes, and many more, the Best of Fests program applauds the irreplaceable work of film festivals today. This year more than ever, IDFA honors the festivals that, in spite of incredible circumstances, continue to champion the art of documentary filmmaking. The initial Best of Fests selection highlights both audience favorites and award-winning masterpieces including the german documentaries such as:
In the PARADOCS section, IDFA showcases 11 of the year's best experimental documentary artworks. Pushing time to its cinematic limits. Peeling back layers of representation. These films will make you question what you're really seeing like • PURPLE SEA by Amel Alzakout, Khaled Abdulwahed, 67min, produced by pong film GmbH out of the german documentareis catalogue.
What does it feel like to be alive today? The 20 films selected for the non-competitive section LUMINOUS answer this question from a kaleidoscope of perspectives and shifting certainties. All of them give cause to pause and reflect, prompting audiences to consider lives that aren't their own.
The German documentary production • THE CASE YOU by Alison Kuhn, 80min in this section is a student film of Filmuniversität Babelsberg KONRAD WOLF.
12 titles are selected for the IDFA COMPETITION OF SHORT DOCUMENTARY, exhibiting ambitious approaches to filmmaking and the utmost respect for the short documentary format. Collectively, the selection is a reminder of how much artistry can be expressed in just a few minutes—it is an ode to duration, even in the shortest form. The German Anima-Doc in this section is • HOTEL ASTORIA by Alina Cyranek, Falk Schuster, 28min, P: hug films GbR Alina Cyranek & Falk Schuster
The 11 titles selected for the STUDENT COMPETITION raise the bar of student filmmaking, illustrating focused, conscious intentions behind every shot. Traveling hundreds of meters underground and to the darkest corners of the human mind, these young filmmakers are asserting who they want to be, offering glimpses of brilliance in the process. Two German documentary productions will premiere in this section.


With 13 titles from a wide range of countries, the KIDS & DOCS COMPETITION invites young audiences to discover art of documentary film. Difficult subject matter and vast artistic expression are the cornerstones of this selection, which caters to both preteens and young adults for the first time. Shorts, feature-length films, and virtual reality all find a home in the selection, broadening the horizons of what a documentary can be. Collectively the titles speak loud and clear: Imaginative young audiences are to be taken seriously. The German productions in this section are
IDFA DocLab Competitions Each year an international jury is invited to give out the IDFA DocLab Award for Digital Storytelling, the IDFA DocLab Immersive Non-Fiction Award as well as the Special Jury Award for Creative Technology, which is granted in both competition programs. The two competitions are open to all sorts of interactive and immersive projects, ranging from web docs, audio experiences, apps, and XR projects to data art, multimedia journalism, installations, live performances and fulldome.
BRIDGE TO SOVIETOPIA by Marie Alice Brandner-Wolfszahn, 16min, Austria, Germany, Ukraine
CORPUS MISTY by Aubrey Heichemer, Germany
REPLACEMENTS by Jonathan Hagard, 12min, Japan, Indonesia, Germany
THE LEAKED RECIPES COOKBOOK by Gabriela Ivens, Demetria Glace, JBE Books, Paris, 45min, France, Germany
28 IDFA Forum, the festival's co-production and co-financing market. The selection welcomes both established filmmakers and new voices to the international stage, with a total number of 63 projects selected to pitch including German productions and co-productions as:
DOCS FOR SALE Every year, more than 300 TV buyers, sales agents, distributors and festival programmers convene in Amsterdam to watch a selection of the very latest and best documentaries available to the international market. The Docs for Sale Lounge, Meet the Professionals sessions and various other activities offer great networking opportunities. Throughout the year, the market's catalogue is available to registered buyers through Docs for Sale online.
This year, current distancing and crowd limitations mean that Docs for Sale will take place online [November 16-20], ensuring that accredited guests all over the world can participate. Nevertheless, guests who can travel in November will be welcome to watch films in cinemas and participate in additional industry activities (apart from Docs for Sale) in Amsterdam.
INDUSTRY PROGRAM AT IDFA 2020 . Get inspired and stay up to date with seven days of Industry Talks, Consultancies, Meetups, Hangouts and more. Everything is available online and freely accessible to guests around the world. Explore the Industry Program.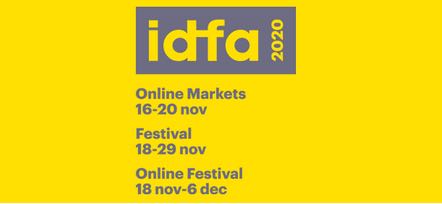 ••• KEY DATES
• IDFA Forum and IDFA DocLab Forum: November 16-20
• Live online presentations of projects: Novemberb16-18, 14-18 Amsterdam time
• One-on-one meetings for selected projects: November 19-20, various time zones
• Expert meetings for observers: November 19-20, various time zones
• Social events: November 16-20, exact times to be announced
as single page
• IDFA 2021
• IDFA 2020
• IDFA 2019
• IDFA 2018
• IDFA 2017