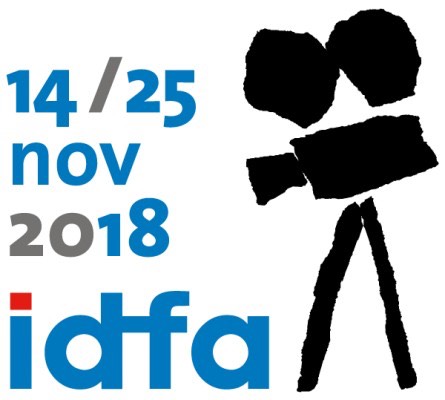 The 31st edition of International Documentary Film Festival Amsterdam, November 14-25, offers an independent and inspiring meeting place for audiences and professionals to see a diverse and high-quality program.
In addition to the festival, IDFA has developed several professional activities, contributing to the development of filmmakers and their films at all stages. At co-financing and co-production market IDFA Forum filmmakers and producers pitch their plans to financiers; at Docs for Sale new documentaries are on offer to programmers and distributors. The 2018 Docs for Sale catalogue will be online Monday, November 5; the IDFA Bertha Fund supports filmmakers and documentary projects in developing countries; and the IDFAcademy offers a international training programs for up-and-coming doc talents. 
UpDate November 21, 2018
Congratulations to the directors of german documentaries – Aboozar Amini, Bettina Perut and Iván Osnovikoff as well as Mahdi Fleifel.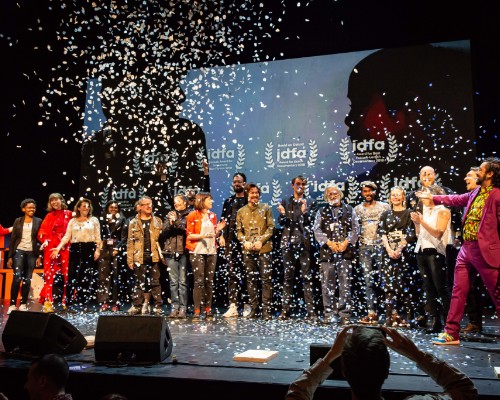 Aboozar Amini won the IDFA Special Jury Award for First Appearance, in memory of Peter Wintonick (€ 2.500) for Kabul, City in the Wind (Netherlands, Afghanistan, Japan, Germany).

IDFA Competition for Short Documentary: I Signed the Petition (United Kingdom, Germany, Switzerland) by Mahdi Fleifel won the IDFA Award for Best Short Documentary (€ 5.000).

In addition, the jury presented the IDFA Special Jury Award for Feature-Length Documentary (€ 2.500) to Los Reyes (Chile, Germany) by Bettina Perut and Iván Osnovikoff. In this almost fairy-tale-like film, the phenomenal, dreamlike camerawork centers almost entirely on the subtle interaction between two dogs, as they play with a ball, a stick, a stone, and each other.
...and all the other winners are >>>
LIVE  at IDFA 2018 | Doc Talk: Karim Aïnouz on "Central Airport THF"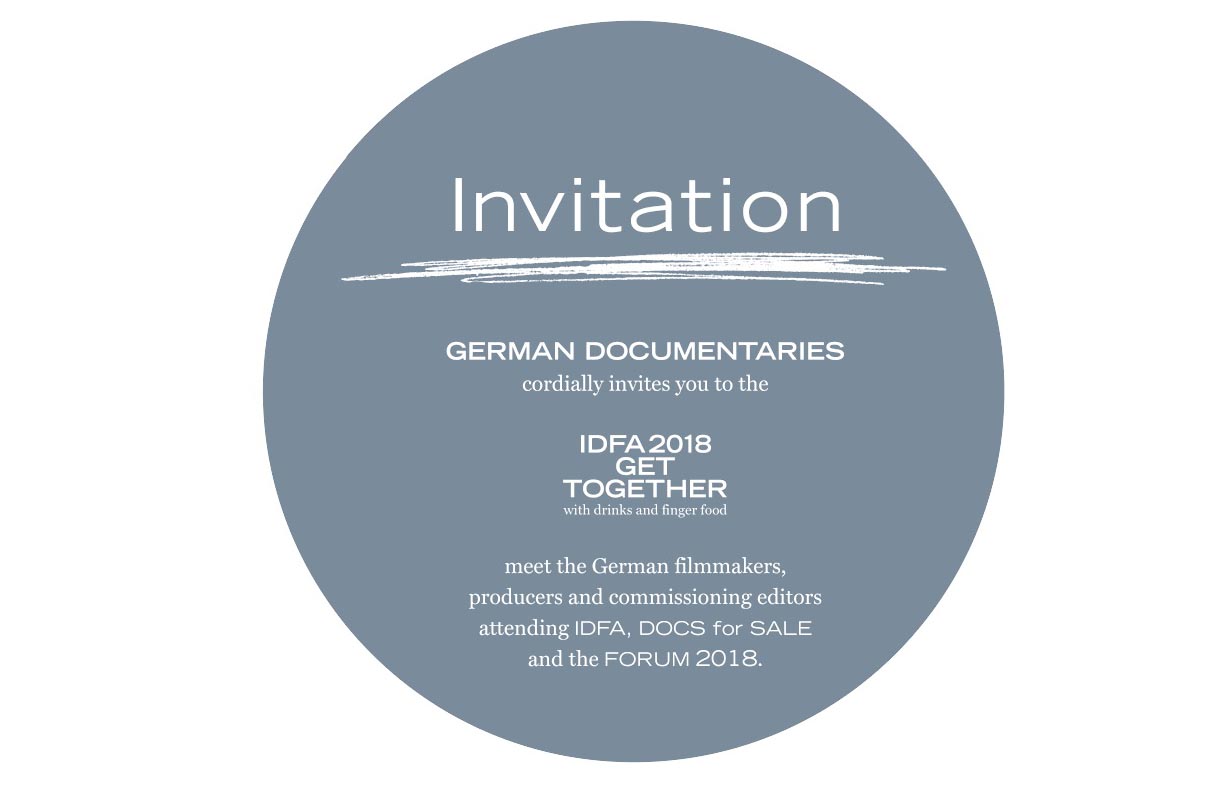 GET TOGETHER
Meet the German filmmakers, producers and commissioning editors with drinks and finger food on Sunday, November 18, 2018, from 7 p.m. to 9 p.m. at  ESCAPE Caffé & Lounge, upstairs in the Lounge in Rembrandtplein 15, 1017 CT Amsterdam.



This year's Feature-Length competition includes 12 titles by established filmmakers, and is characterized by a diversity of styles and forms.  The First Appearance competition showcases emerging filmmakers who pour everything into their debut film. In the Dutch competition, award-winning filmmakers criss-cross with promising new talent. The IDFA DocLab Competition for Digital Storytelling showcases 10 of the best interactive stories and unexpected artistic applications, while makers in the IDFA DocLab Competition for Immersive Non-Fiction defy the definitions of documentary with wide-ranging sensory experiences and experimental technology. Beyond the competitions, IDFA DocLab Spotlight presents documentary art from across many disciplines, embracing surprising new talent and exceptional research projects. Meanwhile, our new focus program Serialized explores the omnipresent serial format, and the place it occupies within documentary film art. 10 films are nominated for the Amsterdam Human Rights Award this year, to be presented November 20th by the city of Amsterdam. Read all the details here.
LineUp of the German documentary productions and co-productions:
IDFA's feature-length competition contains titles from established filmmakers
THE HIDDEN CITY by Victor Moreno, 80min, Spain/France/Germany, P: Dirk Manthey Film
JONATHAN AGASSI SAVED MY LIFE by Tomer Heymann, 106min, Israel/Germany, World Sales: auTLOOK Filmsales
LOS REYES by Bettina Perut, Iván Osnovikoff, 78min, Chile/Germany, Production: Maite Alberdi / Perut + Osnovikoff Ltda., Co-Production: Dirk Manthey Film
IDFA Competition for First Appearance
CLOSING TIME by Nicole Vögele, 116min, Germany/Switzerland, P:Aline Schmid/Beauvoir Films, Co-P: Filmakademie Beaden-Wurttemberg
HAMADA by Eloy Domínguez Serén, 88min, Sweden/Norway/Germany, P: David Herdies & Michael Krotkiewski / Momento Film Co-P: Heino Deckert, ma.ja.de. Filmproduktion GmbH, Fuglene
Opening Film: KABUL, CITY IN THE WIND by Aboozar Amini, 88min, The Netherlands/Afghanistan/Japan/Germany, P: Jia Zhao / Silk Road Film Salon, Co-P: NHK Enterprises, Color of May (Eva Blodiau & Elmar Imanov), Kino Kabul
IDFA DocLab Competition for Digital Storytelling with interactive stories and unexpected artistic applications
EARN A LIVING by Yuval Orr, 90min, France/Germany/The Netherlands/US, interactive, P: Upian
IDFA DocLab Competition for Immersive Non-Fiction
DocLab Humanoid Cookbook
EARN A LIVING by Yuval Orr, 90min, France/Germany/The Netherlands/US, interactive, P: Upian
EYE OF THE DREAM by David O'Reilly Japan, Germany (JP/DE)
LEAKED RECIPES by Gabriela Ivens, Germany, Performance
 IDFA Competition for Short Documentary
DOROTCHKA by Olga Delane, 20min,  Germany, P: Doppelplusultra Film und TV Produktion, BILDSCHÖN FILMPRODUKTION
I SIGNED THE PETITION by Mahdi Fleifel, 10min Germany/UK
ONCE UPON A TIME IN SHANGHAI by Leyli, 35min, Gafarova, Azerbaijan, Germany, P: Veit Helmer Filmproduktion)
 IDFA Competition for Student Documentary An international jury will evaluate the films and select the winners of the ARRI IDFA Award for Best Student Documentary and the IDFA Special Jury Award for Student Documentary. 
IDFA Competition for Kids & Docs
Frontlight  honors the political activists and whistle-blowers of our time. 
Luminous is offering up the gravity of personal experience as a window into contemporary society. These documentaries are character-, story- or author-driven, and make the universal tangible through the individual.
LOST REACTOR by Alexandra Westmeier, 77min, Germany, P: LINGER ON Filmproduction?
UNDERDOWN by Sarah Kaskas, 72min, Lebanon/Qatar/Germany, P: Karaaj Films, pong film, Lichtung
Best of Fests:  Striking documentary films from the international festival circuit are central to Best of Fests. The program showcases prize-winners, public favorites, and high-profile titles from the past year.
Masters  includes the latest films by auteurs whose work IDFA closely follows, and who have an unmistakable cinematographic signature.
Paradocs moves between film and art.
BACKYARD by Khaled Abdulwahed, 26min, Germany, P: pong film GmbH
EXTINCTION by Salomé Lamas, 86min,  Portugal/Germany, P: O Som e a Fúria & Lamas for Lamaland, co-P: Mengamuk Films, Bikini, Screen Miguel Nabinho, Walla Collective
IDFA School Program
OVER THE LIMIT by Marta Prus, 74min, Poland/Germany/Finnland, P: Telemark, co-P: Ventana Film- und Fernsehproduktion, Marianna Films
WATANI MY HOMELAND by Marcel Mettelsiefen, 76min, Germany/UK, P: Marcel Mettelsiefen Films
and  ME & IDFA history  with
        •  NEWS FROM HOME by Chantal Akerman, 90min, ©1977, France/Belgium/Germany
IDFA Forum 2018 - the international documentary co-financing and co-production market takes place November 18-21. The Rough Cut Screenings take place on November 18 and will be followed by three days of pitches and meetings. Project selection of German productions & co-productions:
...and representative Bernhard Simek – offers German producers collective submission. Cklick here for more information IDFA 2019.