The 34 IDFA Award for Best Short Documentary goes to
HANDBUCH | HANDBOOK by Pavel Mozhar
"We give the award to a film we found to be an urgent work that illuminates an ongoing tragedy, one that has received negligible attention. The filmmaker uses the limitations of a pandemic lockdown to create a piece so flawlessly executed that each moment offers the spectator a fresh and unexpected experience. By mirroring the language and methods of the oppressor, this filmmaker hands the power back to the oppressed, making this piece itself a powerful instrument of protest. The author's impressive displays of ingenuity serve as a brilliant masterclass in filmmaking. The jury unanimously bestows this year's Award for Best Short Documentary to Pavel Mozhar's Handbook" say Eliane Esther Bots, Pamela Cohn, and Sara Ishaq.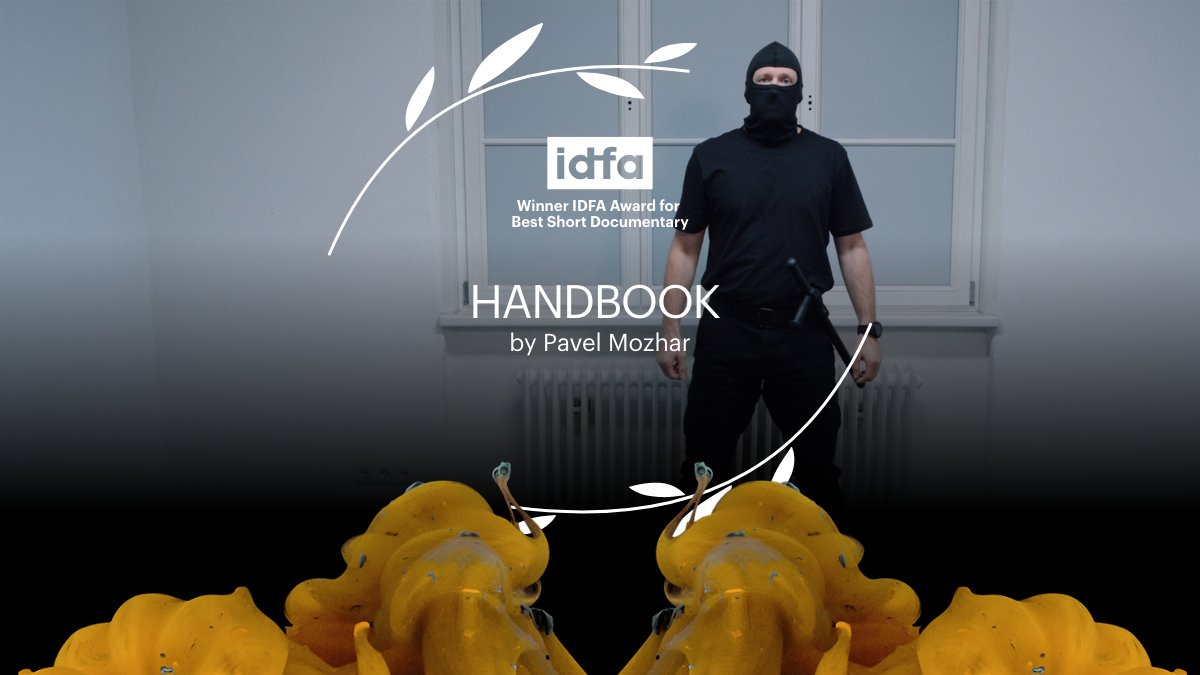 © 2021 IDFA
Find all the other jury decisions here.
With approximately 3,000 guests in Amsterdam and online, extensive health and safety measures such as reduced venue capacity were in place to ensure the safety and wellbeing of all present. The 34th edition of IDFA has run as an in-person event, with twelve special online screenings for audiences, and an extensive library of films, talks, and consultancies available to online guests around the world. To date, IDFA has received over 100,000 cinema visits. 
.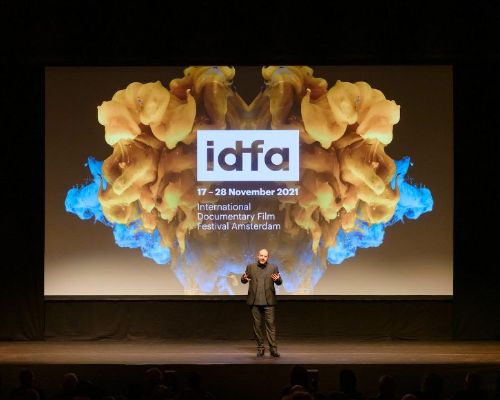 This year's BEST OF FESTS selection — including nine german documentaries — celebrates a year when, despite all challenges, festivals came back with a large slate of exceptional documentary films, and cinema triumphantly returned to the big screen. The program section takes a decidedly cinephile turn in 2021, honoring the year's award winners, critics' picks, and audience favorites. The 46-film-strong selection includes highlights out of the german documentaries catalogue such as
 IDFA Masters selects sixteen must-see titles from some of the leading filmmakers of our time. Several entries speak to the growing crossover between filmmakers working in both the fiction and documentary worlds, as seen in the German co-productions Karim Aïnouz's MARINER OF THE MOUNTAINS, charting the director's first trip to his father's homeland, TWO MINUTES TO MIDNIGHT by Yael Bartana, and THE FIRST 54 YEARS by Avi Mograbi, among other titles.  
Fourteen singular films are selected for IDFA's new International Competition: a manifestation of classical documentary at its most sublime, yet still full of surprises. These are films that use a clearly defined frame, but inside it, anything can happen. Artistically confident, well-rounded, and universally relevant, each of these titles express an unparalleled cinematic mastery that is at once both intricate and effortless. The German/Chinese co-production in this section is:
IDFA Competition for Short Documentary  With an influx of young filmmakers, the IDFA Competition for Short Documentary has grown in scope, with twenty selected titles, that showcase a healthy boom for the short film form — including two german documentaries. A mosaic of styles and themes defines this selection, exploring everything a short documentary can be: from animation to personal archive films to classic documentary cinema, with plenty of experimenting in between.
The International Documentary Film Festival Amsterdam — IDFA announced among others The Top 10 program curated by Guest of Honor Hito Steyerl includes VIDEOGRAMS OF A REVOLUTION, the cult masterpiece by Harun Farocki and Andrei Ujica, in a nod to Steyerl's long-held admiration of Farocki, who she has written about, exhibited with, and studied under at the Academy of Fine Arts Vienna. Still elsewhere in the selection, Steyerl presents a mainstay of documentary journalism with Laura Poitras' Oscar-winning Edward Snowden film CITIZENFOUR.

Explore the complete list of documentary films, interactive and immersive artworks, and live cinema events now. Discover the IDFA selection from A to Z.
DOCS FOR SALE Among more than 420 fresh titles, there is a strong contingent of IDFA-selected films, an exciting selection of high-profile films without sales agents, and a vibrant line-up of short documentaries, including more than 30 German productions and co-productions.
DOCS FOR SALE takes place Friday, November 19 to Thursday, November 25.
This year, the IDFA team looks forward to welcoming Docs for Sale guests to an in-person market in Amsterdam where they can physically screen films, attend meetings, and network, COVID-19 regulations permitting. Nevertheless, to accommodate guests who are unable to travel, the Docs for Sale team can also facilitate online meetings, offering the possibility to participate remotely where necessary.
• Introduction to Docs for Sale for first-timers (online): Monday, November 1
• In-person meetings: November 19-24, 11:00–13:00 CET and 14:30–16:30 CET
• Online meetings: November 25-26 9:00–18:00 CET
IDFA Forum takes place from Saturday, November 20 to Friday, November 26.
62 projects are selected among them German productions and co-productions such as
For more information please visit the website of the festival and/or download the pressreleases here. IDFA presents new festival selections from September 21 onwards. The final competition titles will be announced on Monday, November 1, during the IDFA 2021 press conference—available to stream online at www.idfa.nl. 
The LineUp of german documentaries at 34 IDFA will be published here at the beginning of November 2021.
See who will be attending 34 IDFA's guest list 2021. 
as single page
• IDFA 2021
• IDFA 2020
• IDFA 2019
• IDFA 2018
• IDFA 2017
• _ IDFA 2022 _ •
The 35th edition of the festival takes place November 9–20, 2022.
Submissions are now open for IDFA 2022!
Early deadline for films May 5 | Deadline for immersive/interactive projects and performances June 28 | Final deadline for films July 14