'german documentaries' is the international label for the promotion of German documentary films abroad. An initiative of the German Documentary Association AG DOK and German Films Service + Marketing GmbH  'german documentaries' is not a distributor or world sales agent itself, but it presents German non-fiction films from different licensees at international festivals and markets, and organizes co-production meetings and film series. 'German Documentaries' also publishes an annual edition of the catalogue featuring some 200 new films which are available for distribution worldwide. 
The next edition of the catalogue 'german documentaries 2019' will be published in February 2019 at the 69th BERLINALE, February 7—17, 2019.
The AG DOK / german documentaries will be represented there at the efm - European Film Market with a booth in the so called German Pavilion. Erik Meininger and others have taken over the stand management. Posters of german documentaries, which celebrate their world premiere at the Berlinale and temporarily [probably more documentary films will be shown than there is room for] will gladly be hung in the designated frames [DinA1]. If possible, posters of German documentary film productions that are not part of the official BERLINALE programme will also be considered. Stands for press material, flyers & postcards offer further
possibilities to feature German documentaries completed last year. There will also be a possibility to watch DVDs.
Gropius Bau
European Film Market
AG DOK c/o german films
booth Nr. 17
Erik Meininger
Kordula Hildebrandt
  Niederkirchnerstr. 7
10963 Berlin, Germany
office@agdok.de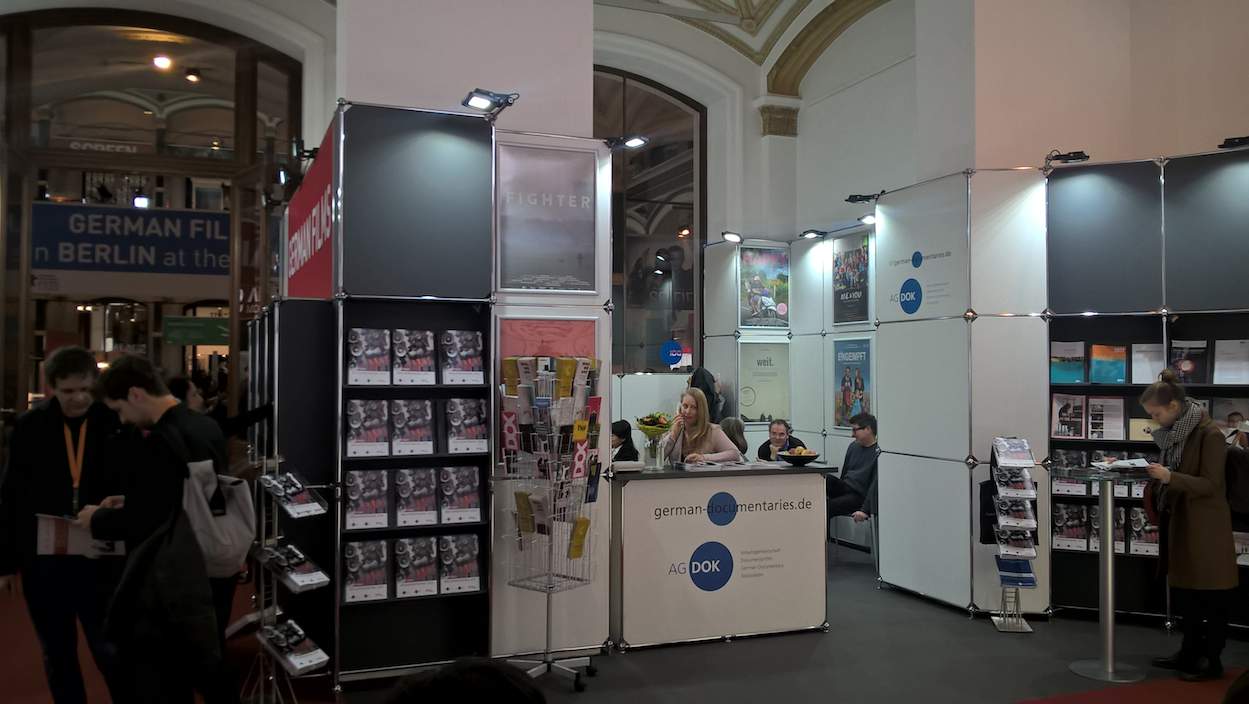 Meet face to face our representatives and some of the producers of german documentaries, check out the new edition of the catalogue at markets and festivals throughout the year.
The ongoing annual activities include as mentioned here - for the actual dates and more information please visit our  SCHEDULE    [ https://german-documentaries.de/en_EN/news#schedule ]
Asian Side of the Doc,  Thailand
with pitch sessions and one-to-one meetings.
Representative german documentaries: Björn Jensen
European Film Market - efm, BERLINALE, Germany
with representative Kordula Hildebrandt, first appearance of the annual edition of the german documentaries catalogue
MIPDOC/MIPTV,  Cannes, France
Representative german documentaries: Björn Jensen  
Rio Content Market,   Rio de Janeiro, Brazil
Representative german documentaries: Teresa Curzio | tcurzio@gmx.net
Hot Docs Toronto,  Toronto, Canada
Representative german documentaries: Björn Jensen    (further informations - German only)
CoPro Israel | Isreali Documentary Screen Market, Tel Aviv, Israel
Representative german documentaries: Björn Jensen  
Sheffield Documentary Filmfestival, Sheffield, UK
Representative german documentaries: Björn Jensen  
IREP Film Festival
Representative german documentaries: Bärbel Mauch
Ecrans Noirs, 
Representative german documentaries: Bärbel Mauch
Sunny Side of the Doc, La Rochelle, Frankreich
Representative german documentaries: Björn Jensen
MIPCOM,  October, Cannes, Frankreich
Representative german documentaries: Bernhard Simek, German Films
IDFA / Forum Amsterdam, November, Amsterdam, Niederlande
Representative german documentaries: Cay Wesnigk
World Congress of Science and Factual Producers, November, Brisbane, Australien
Representative german documentaries: Björn Jensen
Guangzhou International Dokumentary Filmfestival, Guangzhou, China
Representative german documentaries: Björn Jensen