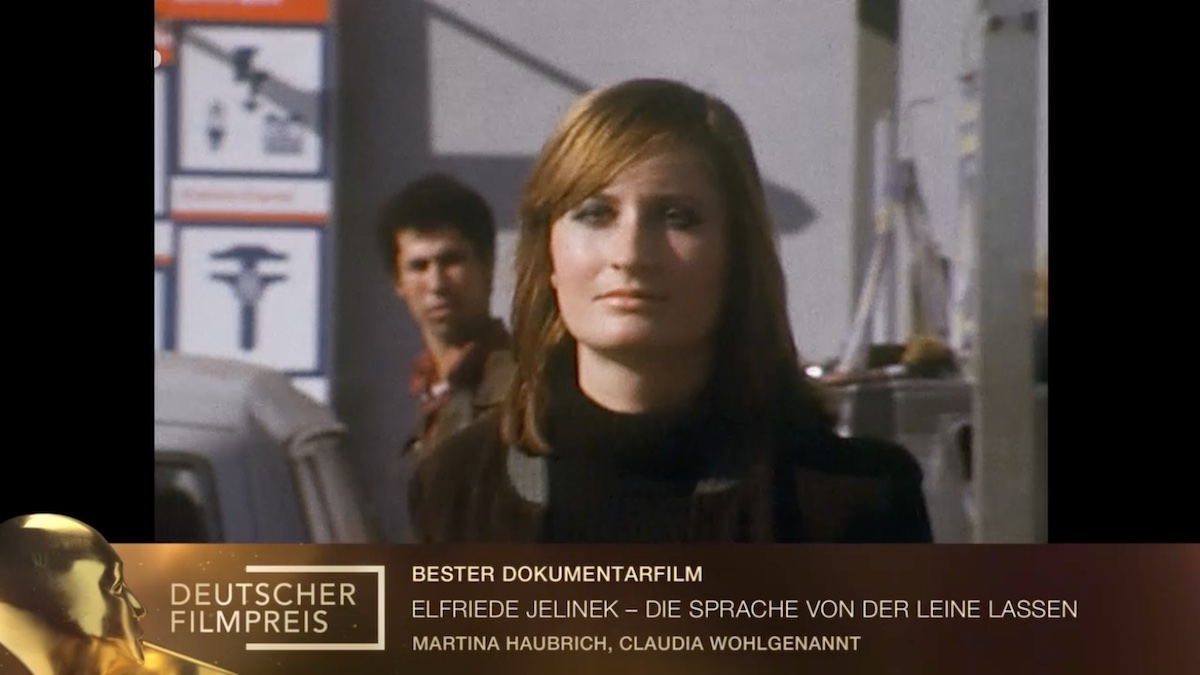 Presented by longdistance swimmer Sara Mardini the GERMAN FILM AWARD DOCUMENTARY #lola23 goes to ELFRIEDE JELINEK – LANGUAGE UNLEASHED by Claudia Müller, produced by Martina Haubrich and Claudia Wohlgenannt. The German/Austrian co-production (CALA Filmproduktion GmbH / Plan C Filmproduktion OG) portraing the Austrian (based Munich) literature nobel prize winner 2004 Elfriede Jelinek, got awarded with the AUSTRIAN FILM AWARD DOCUMENTARY [Österreichischer Filmpreis – Sektion Dokumentarfilm] as well. Ingrid Molnar, editor of german documentaries congratulates.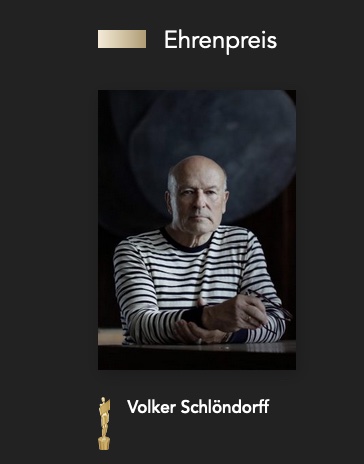 Volker Schlöndorff, the director of THE FOREST MAKER, gets awarded for his lifework with the EHRENPREIS, laudatio by John Malkovich videoconferencing.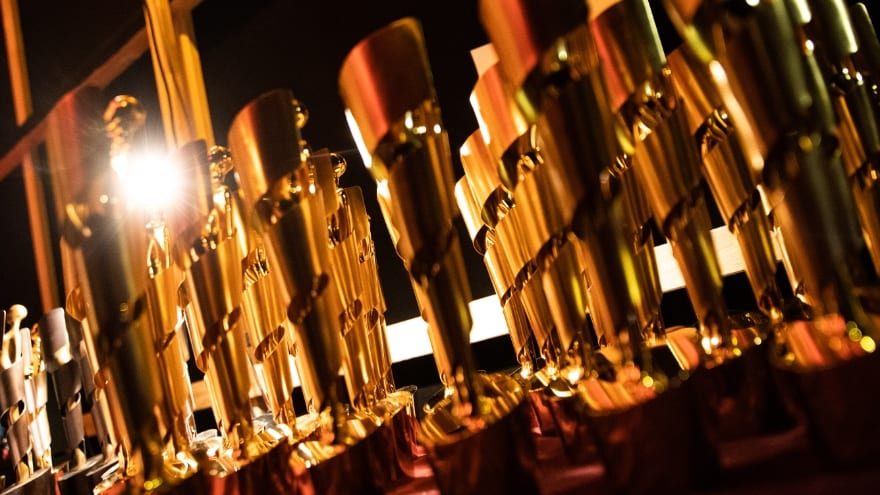 KALLE KOSMONAUT by Tine Kugler, Günther Kurth, Producers: Tine Kugler, Günther Kurth, Production Company: KMOTO Medienproduktion, [LOLA TALK]
LOVE, DEUTSCHMARKS AND DEATH | LIEBE, D-MARK UND TOD by Cem Kaya, 96min, Producers: Claus Reichel, Mehmet Akif Büyükatalay, Florian Schewe, Stefan Kauertz, Production Companies: filmfaust, Film Five, Distribution Germany: Rapid Eye Movies, [LOLA TALK]
 ELFRIEDE JELINEK – LANGUAGE UNLEASHED | ELFRIEDE JELINEK – DIE SPRACHE VON DER LEINE LASSEN by Claudia Müller, Producer: Martina Haubrich, Claudia Wohlgenannt, Production Companies: CALA , Plan C Filmproduktion and Editor Mechthild Barth is nominated for best editing as well. Mechthild Barth has already successfully edited German documentaries for many years and the editor of german documentaries is therefore particularly pleased that she has been nominated this time with a documentary for this section. The montage of archive material with voiceovers and interviews, some of them recently recorded, is told from Jelinek's point of view. [39 FFMUC] [LOLA TALK]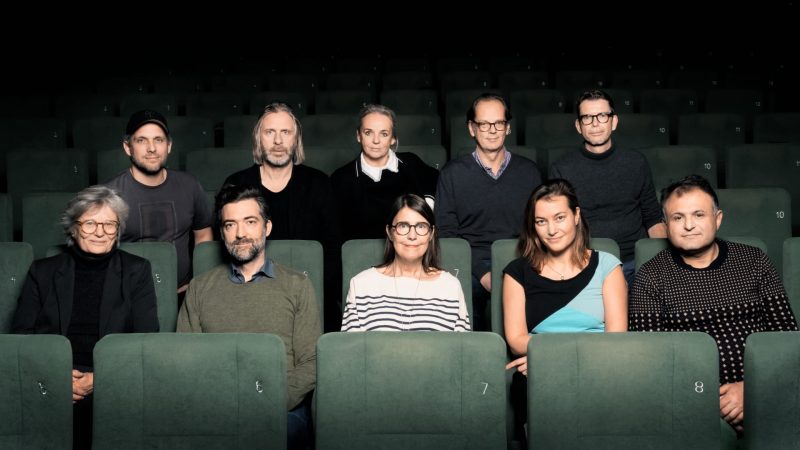 Ansgar Frerich, Martin Farkas, Annekatrin Hendel, Felix Grassmann, Karsten Aurich, Ursula Höf, Lorenz Dangel, Mirjam Leuze, Antonia Kilian, Mohammad Farokhmanesh [preselection comission documentary]
 © 2022 Florian Liedel | Deutsche Filmakademie e.V.
ANIMA – MY FATHER'S DRESSES | ANIMA – DIE KLEIDER MEINES VATERS by Uli Decker, 94min, Producers: Katharina Bergfeld, Martin Heisler, Production Company: Flare Film,
BELLEVILLE BELLE ET REBELLE by Daniela Abke, 98min, Producer: Daniela Abke, Pierre-Olivier Bardet, Productioncompanies: Coccinelle Films, Idéale Audience, Distribution Germany: RFF – Real Fiction Filmverleih,
DANCING PINA by Florian Heinzen-Ziob, 111min, Producers: Florian Heinzen-Ziob, Georg Heinzen, Productioncompany: Fontäne Film, Distribution Germany: mindjazz pictures UG,
ELFRIEDE JELINEK – LANGUAGE UNLEASHED | ELFRIEDE JELINEK – DIE SPRACHE VON DER LEINE LASSEN by Claudia Müller, Producer: Martina Haubrich, Production Companies: CALA Filmproduktion, Plan-C Filmproduktion OG,  Distribution Germany: Farbfilm Verleih,
EUROPA PASSAGE | EUROPA PASSAGE by Andrei Schwartz, 90min, Producer: Stefan Schubert, Production Company: Wüste Film, Distribution Germany: imFilm Agentur+Verleih,
IGOR LEVIT – NO FEAR by Regina Schilling, 118min, Producer: Thomas Kufus, Production Company: zero one film, Distribution Germany: Piffl Medien,
KALLE KOSMONAUT by Tine Kugler, Günther Kurth, Producers: Tine Kugler, Günther Kurth, Production Company: KMOTO Medienproduktion,
KÖY by Serpil Turhan, Producer: Barbara Groben, Production Company: LUZID FILM, Distribution Germany: Salzgeber,
LOVE, DEUTSCHMARKS AND DEATH | LIEBE, D-MARK UND TOD by Cem Kaya, 96min, Producers: Claus Reichel, Mehmet Akif Büyükatalay, Florian Schewe, Stefan Kauertz, Production Companies: filmfaust, Film Five, Distribution Germany: Rapid Eye Movies,
LUCHADORAS by Paola Calvo, Patrick Jasim, 92min, Producers: Phillip Kaminiak, Patrick Jasim, Paola Calvo, Production Companies: TUMULT Film, Sutor Kolonko, WS: RISE AND SHINE WORLD SALES U.G, Distribution Germany: missing films,
MIDWIVES by Snow Hnin Ei Hlaing, 89min, Producers: Ulla Lehmann, Snow Hnin Ei Hlaing, Mila Aung-Thwin, Production Companies: AMA FILM, EyeSteelFilm, Snow Films Production, WS: dogwoof,
SLAUGHTERHOUSES OF MODERNITY | SCHLACHTHÄUSER DER MODERNE by Heinz Emigholz, 80min, Producers: Frieder Schlaich, Irene von Alberti, Production Company: Filmgalerie 451,
THE VOICE OF THE PEOPLE | VOLKSVERTRETER by Andreas Wilcke, Producer: Andreas Wilcke, Production Company: wilckefilms, 94min,
WHO WE WILL HAVE BEEN | WER WIR GEWESEN SEIN WERDEN by Erec Brehmer, Producer: Erec Brehmer, Distribution DVD: good!movies,
WEATHERMAKER | WETTERMACHER by Stanislaw Mucha, 92min, Producers: Markus Belde, Kurt Otterbacher, Rudi Teichmann, Production Companies: Zinnober Film, strandfilm, B&T Film, Distribution Germany: W-film,
A WOMAN | EINE FRAU by Jeanine Meerapfel, 104min, Producer: Titus Kreyenberg, Production Company: unafilm, Malena Filmproduktion, Distribution Germany: RFF – Real Fiction Filmverleih, 
and last but not least to mention
MOTHER | MUTTER [hybrid and shortlisted for fiction] by Carolin Schmitz, 85min, Producer: Ingmar Trost, Production Company: Sutor Kolonko, Distribution Germany: mindjazz pictures UG,
   • German Film Award | LOLA 2023
   • German Film Award | LOLA 2022
   • German Film Award | LOLA 2021
   • German Film Award | LOLA@Berlinale 2020
   • German Film Award | LOLA@Berlinale 2019
   • German Film Award | LOLA@Berlinale 2018