The 66th edition of the DOK Leipzig film festival will open on Sunday October 8, 2023, 7pm at CineStar 4 with the world premiere of Arndt Ginzel's documentary WHITE ANGEL – THE END OF MARINKA | WHITE ANGEL – DAS ENDE VON MARINKA.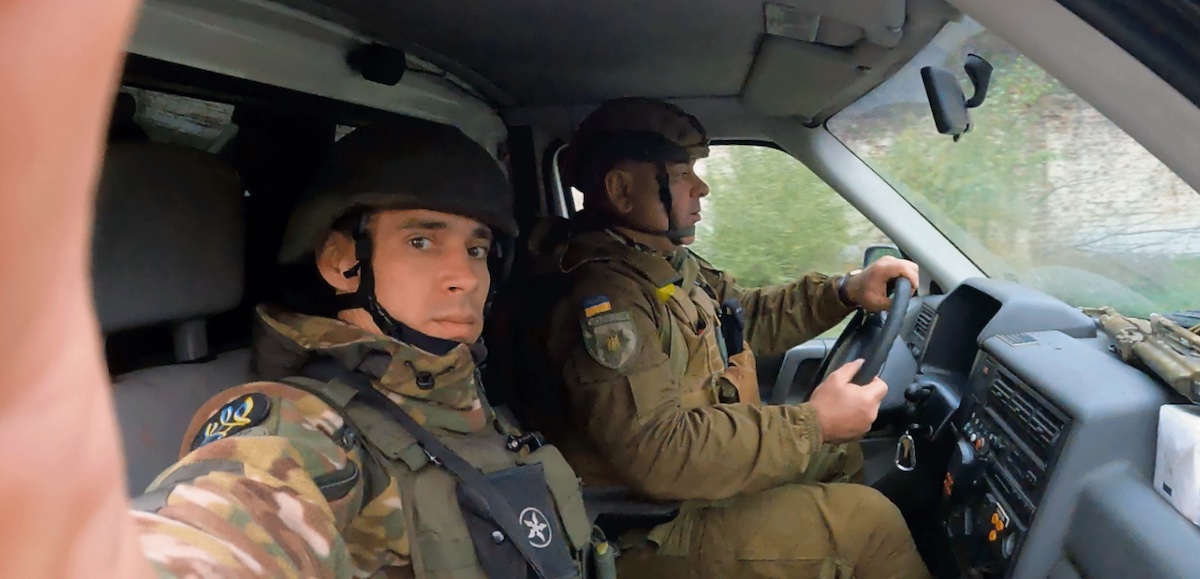 © 2023 Journalistenbüro Ginzel Kraushaar Datt GbR
The impressive close-up footage of the operations is from a GoPro camera worn by police officers who repeatedly drive around the town in a white van which the civilians call the White Angel, documenting the evacuation and rescue operations in the small town of Marinka in the Donetsk region from the spring to the autumn of 2022. Spring 2023, Arndt Ginzel and his team returned to Ukraine and spoke with the rescuers and survivors about their traumatic experiences – and about the demise of their home town, which no longer exists.
 LineUp German productions and co-productions [work in progress]
DOK Leipzig Retrospective focuses on resistance to communist regimes in the Eastern Bloc including German productions such as:
[Kurt Biedenkopf besucht ein sowjetisches Panzerregiment] by Klaus Wilhelm, 8min, ©1991, Germany [Matinee Saxon State Archive]
BEGEGNUNGEN by Alfred Dorn, 15min, ©1970 [Matinee Saxon State Archive]
DREI JAHRZEHNTE SPÄTER by Volker Kastius, 15min, @1977, GDR [Matinee Saxon State Archive]
HUNGARY IN FLAMES | UNGARN IN FLAMMEN by Ferdinand Khittl, Stefan Erdélyi, 83min, © 1957, C: Bundesarchiv [Film and Protest]
One Wednesday in June – 20 Years Ago: People's Uprising, Workers' Revolt or Secret Services Putsch? | Ein Mittwoch im Juni – Vor 20 Jahren: Volksaufstand, Arbeiterrevolte oder Agentenputsch? by Lutz Lehmann, 60min ©1970, C: OneGate Media GmbH,[Retrospective]
RÜCKGABE DER KUNSTSCHÄTZE AN DAS GRÜNE GEWÖLBE by anonym, ©1958, 5min [Matinee Saxon State Archive]
SOVIET TROOPS IN PRAGUE AND BUDAPEST | SOWJETISCHE TRUPPEN IN PRAG UND BUDAPEST (Panorama, 29.7.1968), 18min © 1968, C: OneGate Media GmbH [Retrospective]
UPRISINGS IN THE SOVIET SPHERE OF INFLUENCE by Ralph Giordano, Hans-Ulrich Barth, 24min, ©1961, [Retrospektive]
WEHE DEN BESIEGTEN by Andrea Ritterbusch, 87min, ©1990, GDR [DEFA Matinee|
Individual meetings between producers and the selected projects take place on 9–10 October 20223 in Leipzig with complementary online meetings on 16 October. Join as a producer without project - submission possible until September 7.
The 19th edition of the DOK Co-Pro Market welcomes 35 documentary projects from 30 countries that will have the opportunity to find international financing and co-production partners. This year has seen an increase in the number of submissions, totalling 316 projects, including two ukrainian productions as well as seven German co-productions, such as:
 Find all 35 selected documentary projects listed here.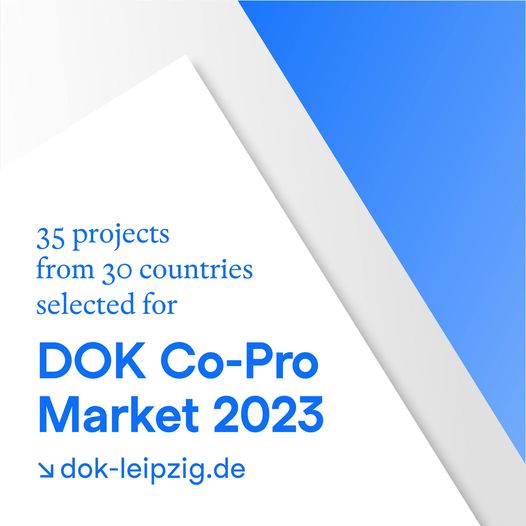 A major focus of the DOK Co-Pro Market is to help create a network of unique professionals dedicated to the co-production of creative documentary works. We invite producers who are actively looking for new audio-visual works to co-produce and to expand their networks internationally to apply as a Producer without a Project for participation in the Co-Pro Market. [DOK Leipzig PR August 31, 2023]
This year's Industry Programme opens on October 9, 2023 with a panel on the current state of independent Belarusian documentary cinema and the challenges filmmakers face, with the participation of the recently launched Belarusian Independent Film Academy (BIFA).
Among other highlights of the Industry Programme is Short n' Sweet,  Oktober 11,2023, the 7th edition of the short film pitching event. DOK Archive Market will take place on 12 October, featuring an exciting programme on archival research and production, including one-on-one consultations with archival researchers and producers.
Explore all events of the complete Industry Programme in our Industry Timetable or see the A-Z overview here. Get accreditations at the regular rate until September 30, 2023. Last-minute accreditation requests are possible until the end of the festival with an extra fee. 
DOK Preview Germany is an exclusive showcase featuring up to 8 German feature-length documentaries in the final stages of production. The teams present their projects to international buyers, editors, world sales, festival curators and distributors.
Meet inspiring creatives and dive into diverse topics and unique filmmaking styles presented by experienced moderators Julia Teichmann and Tanja Georgieva-Waldhauer. The film teams will give you a sneak peek into their new works to enrich your slates, slots and festivals.
With the project presentation and subsequent opportunity for networking and exchange, we want to support the selected projects on their journey to international distribution and create new working ties.
2023 project selection for DOK Preview Germany wil be announced on September 27,2023. The event wil be moderated by Tanja Georgieva-Waldhauer and Julia Teichmann.
Tanja Georgieva-Waldhauer is an EAVE producers workshop-alumna, has represented Germany as a European Producer on the Move in 2020 and is a member of EWA, DAE, Produzentenverband, AG DOK, the German and European Film Academy.
Julia Teichmann is Head of Documentary at German Films and supervises the Marketing & Subtitling Support. She has worked as a curator and is still working as a moderator. She was also a film critic and regularly served on juries at national and international film festivals.
as single page:
•  66 DOK Leipzig 2023 • PRconference __German only___
•  65 DOK Leipzig 2022 •
•  64 DOK Leipzig 2021 •
•  63 DOK Leipzig 2020 •
•  62 DOK Leipzig 2019 •
•  61 DOK Leipzig 2018 • 
• DOK Leipzig @ VIMEO •
• DOK Leipzig @ FB •
• DOK Leipzig @ INSTA •
Meet the team:  https://www.instagram.com/p/CxSZpmWM7SC/