IDFA 2023 opens with the world premiere of A PICTURE TO REMEMBER by Olga Chernykh. The film presents a deeply personal and essay-style account of the ongoing war in Ukraine and its violent history, seen through the prism of three generations of women: Chernykh herself, her mother, and her grandmother. In a bid for connection and intimacy, the filmmaker uses old family films, recordings of conversations, and news reports to bridge the distance between her and her grandmother. The result is a kaleidoscopic and personal film that travels through time fluidly. A PICTURE TO REMEMBER has been selected for the Envision Competition and received IDFA Bertha Fund support in 2023. 
"This is a film by an independent filmmaker that is both personal and political. By building her film around three generations of women in her family, Chernykh carriers us to the daily experience of Ukrainians today. The director does not shy away from trying to build a cinematic world with fragile elements. The courage and originality of the film's approach opens up to a much larger world view. That's what place films like A Picture to Remember at the heart of IDFA," said IDFA's Artistic Director, Orwa Nyrabia.

 DOK Industry Talk at 66 DOK Leipzig presents ARTE initiative

In this year's edition, DOK Leipzig is presenting a DOK Industry Talk on Generation Ukraine, a new initiative by the ARTE Group aimed at supporting the Ukrainian filmmaking industry by co-producing 12 documentaries that explore Ukrainian reality in the throes of the ongoing war.
The Talk, held on 10 October at 16:30 – 18:00 CEST, will present the ARTE initiative and showcase six of the projects with the participation of the film teams. The Talk will be moderated by documentary film producer and consultant Heidi Fleisher.
The ARTE Group and its European partners launched the project Generation Ukraine in a concerted effort to bolster the realisation and distribution of the Ukrainian film projects that have been conceived since the beginning of the Russian invasion and are in dire straits documenting the lasting impacts of the war on their country, its collective memory, land, and its people. The kick-off workshop of the Generation Ukraine project took place in Strasbourg in January 2023. From Wednesday, October 11th, a three-day workshop on "Generation Ukraine" will commence at the MDR headquarters in Leipzig.
Following the example of Generation Africa, which gave a platform for young African filmmakers across the continent to tell their stories and reach diverse audiences, ARTE is supporting 12 Ukrainian documentary projects in various stages of development, selected from some 30 high-quality submissions. The selected Ukrainian film projects are financed by the ARTE group (ARTE France, ARTE GEIE and ARTE Germany), through co-productions or pre-sales, and in collaboration with the broadcaster's European partners. Projects completed by autumn 2024 will be included in the ARTE Media Library. All films will be broadcast on ARTE at a later date.
The Generation Ukraine project is one of many ARTE's recent initiatives championing daring and uncompromising voices from Ukraine. One of them is the web series "Ukraine: The War from Within" where Ukrainian journalists offer "an authentic view of the East from the East."
The following projects are participating in ARTE's Generation Ukraine:


"Displaced", director Olha Zhurba, production Darya Bassel (Moon Man / UKR), Anne Köhncke (Final cut for real / DK), ARTE France
"Basement 341", director Roman Blazhan, production Roman Blazhan (Minimal Movies / UKR), Christilla Huillard-Kahn (Elda / FR), ARTE France
"Intercepted", director Oksana Karpovych, production Giacomo Nudi (Films Cosmos / Canada), Darya Bassel (Moon Man / UKR), Pauline Tran Van Lieu (Hutong Prod. / FR), ARTE France
"Cuba & Alaska", director Yegor Troyanovsky, production Olha Beskhmelnytsina (2Brave / UKR), Christian Popp (Tag Films / FR), ARTE France
"Queens of Joy", director Olga Gibelinda, production Ivanna Khitsinska (Quatros Group & Malanka Studios / UKR), Louis Beaudemont (Les Steppes Productions / FR), ARTE GEIE
"The Days I would Like to Forget", directors Alina Gorlova, Yelizaveta Smith, Maksym Nakonechnyi, Simon Mozgovyi, production Eugene Rachkovsky, Maksym Nakonechnyi, Karina Kostyna (Tabor Films / UKR), Ralph Wieser (Mischief Films / GER), SWR / ARTE
"Another Man's Diary", directors Oleksandr Tkachenko, Dmytro Dokunov, production Illia Gladshtein (Phalanstery films / UKR), BR / ARTE
"The Blessed Ones", director Andrii Lysetskyi, production Olha Beskhmelnytsina, Gennady Kofman, (MaGiKa-film / UKR), Uldis Cekulis (VFS Films / LAT), Erik Winker (CORSO Film / GER), MDR / ARTE
"Nukemailing", directors Pavel Cherepin, Anton Bazelinsky, production Heroes Creative Studio, Kyiv, DOCDAYS Productions GmbH, Berlin, RBB / ARTE
"A Bit of a Stranger", director Svetlana Lischynska (Albatros / UKR), production Anna Kapustina; Alex Tondowski (Tondowski Film / GER), ZDF / ARTE
"Women Occupied", directors Tetiana Hanza, Zoia Volk, production Zoia Volk, Valentina Boye (Zova films / GER), Regina Maryanovska-Devidzon (Real Pictures, UKR), SWR / ARTE
"Silent Food", director Dmytro Sukholytkyy-Sobchuk, production Karina Kostyna, Eugene Rachkovsky (Tabor / UKR), Tanja Georgieva-Waldhauer (Elemag Pictures / GER), MDR / ARTE

30 HOT DOCS Toronto with nine documentaries MADE IN UKRAINE:

73 Berlinale Special Gala with Documentary on Ukraine
SUPERPOWER by Sean Penn, Aaron Kaufman, USA 2022
This past year the weight of the real world has had a significant impact on people's lives. Among the films premiering this year at the festival there is one in particular that witnesses the shock we all felt. More than a documentary, SUPERPOWER is the chronicle of a film project that reality forced to change in to something less controllable but more meaningful. In a festival that will take place one year after the Russian invasion in Ukraine, it is important to show the film that Sean Penn and Aaron Kaufman made under such difficult conditions. Like their colleagues who risked their lives in order to testify the cruelty of the war, they prove once more that art can inspire action worldwide.
EASTERN FRONT | SHIDNIY FRONT by Vitaly Mansky & Yevhen Titarenko, Latvia / Czech Republic / Ukraine / USA [Encounter]
IT'S A DATE by Nadia Parfan, Ukraine [Short]
IRON BUTTERFLIES by Roman Liubyi, Ukraine / Germany [Panorama]
DO YOU LOVE ME? | TY MENE LUBYSH? by Tonia Noyabrova, Ukraine / Sweden [Panorama]
IN UKRAINE | W UKRAINIE by by Piotr Pawlus, Tomasz Wolski, Poland, Germany [Forum]
WE WILL NOT FADE AWAY | MY NE ZGASNEMO by Alisa Kovalenko, Ukraine / France / Poland [Generation]
WAKING UP IN SILENCE | IM STILLEN ERWACHEN by Mila Zhluktenko, Germany / Ukraine, [Generation]
and
THE BLINDSIGHT by Ruslan Batytskyi, [Berlinale Co-Production Market]
The EFM is supporting the industry with a package of special measures.
find out more in the press release 73 BERLINAE of January 20, 2023.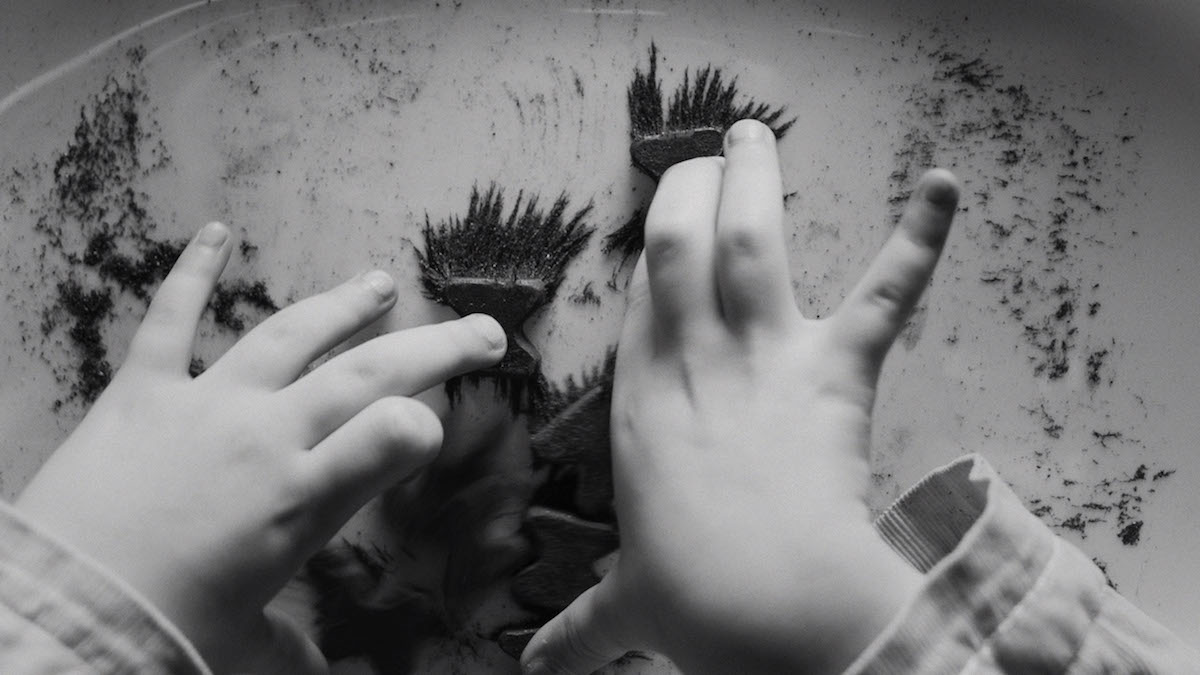 In summer 2014, sunflower fields and coal mines in eastern Ukraine turned into a 12 square kilometer crime scene. A multi-layered investigation into the downing of flight MH17, in which a butterfly-shaped shrapnel was found in the pilot's body, implicated the state responsible for a war crime that remains unpunished.
Since 2013, the film director Roman Liubyi has been working with the #BABYLON'13: Cinema of Civil Society group of independent film producers who came together during the Revolution of Dignity. Since 2015 Roman has been working on the full-length documentary project WAR NOTE, based on videos from soldiers' cell-phones. In cooperation with the Security Service of Ukraine, Roman Liubyi has created two films based on materials from the major war-crimes cases.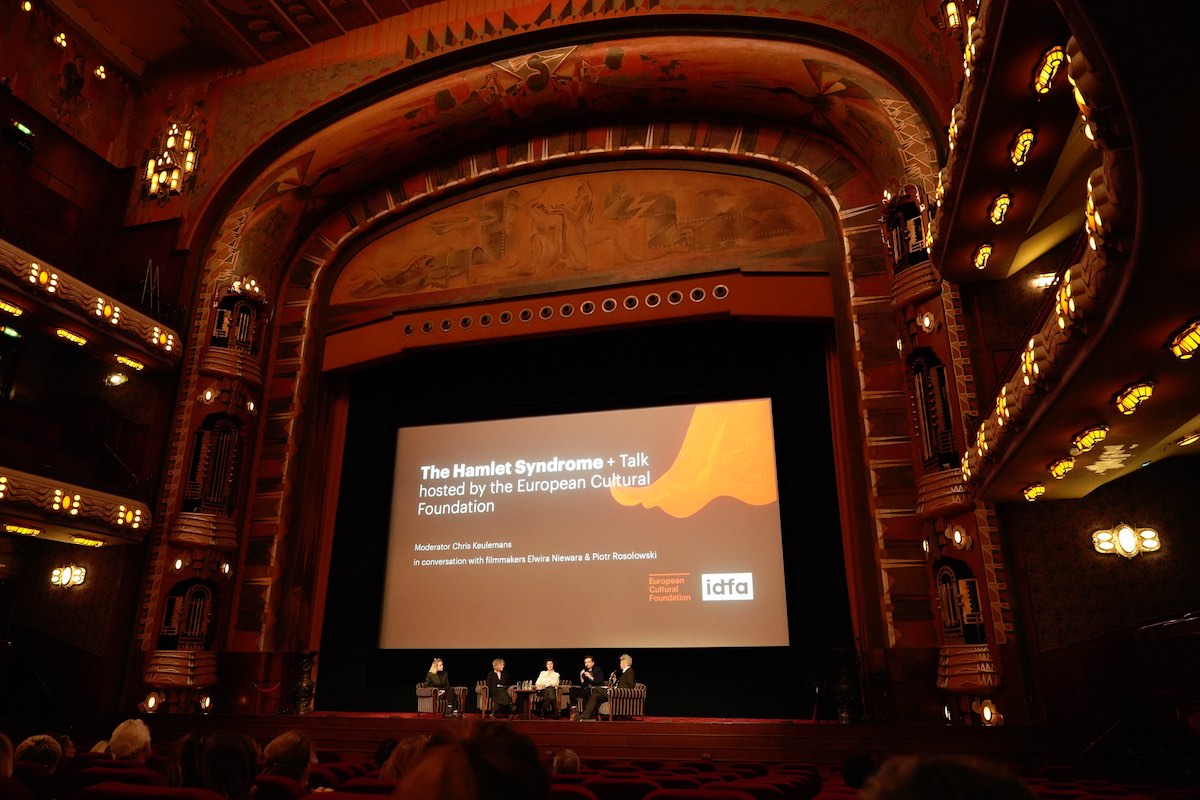 THE HAMLET SYNDROME premiered in Amsterdam, NYC and Kyivi!
An exciting weekend for THE HAMLET SYNDROME: incredible screenings and Q&A's on IDFA, the next day flight to New York, and the same evening, our American premiere on DOC NYC. Sunday, our Ukrainian premiere in Kyiv. Bomb alerts and power outages before and after the screening, and no light on the streets, but the cinema shone the strength and determination of our protagonists. The screening finally took place, and even Rodion and Roman could attend! It's heart-wrenching that the war has already lasted nine months, and trauma continues to sew its seeds into the everyday lives of ordinary Ukrainians.
Source: FB/TheHamletSyndrome
...and upcoming screenings at 39 Kassel Documentary FF  & Human Rights FF, Zurich .

The twenty-sixth edition of Ji.hlava, October 25-30, 2022 will open with 8TH DAY OF THE WAR by Ukrainian director Oksana Moiseniuk. The film was made on the eighth day of the Russian aggression in Ukraine and is not about the war as such, but about its impact on the Ukrainian diaspora in the Czech Republic.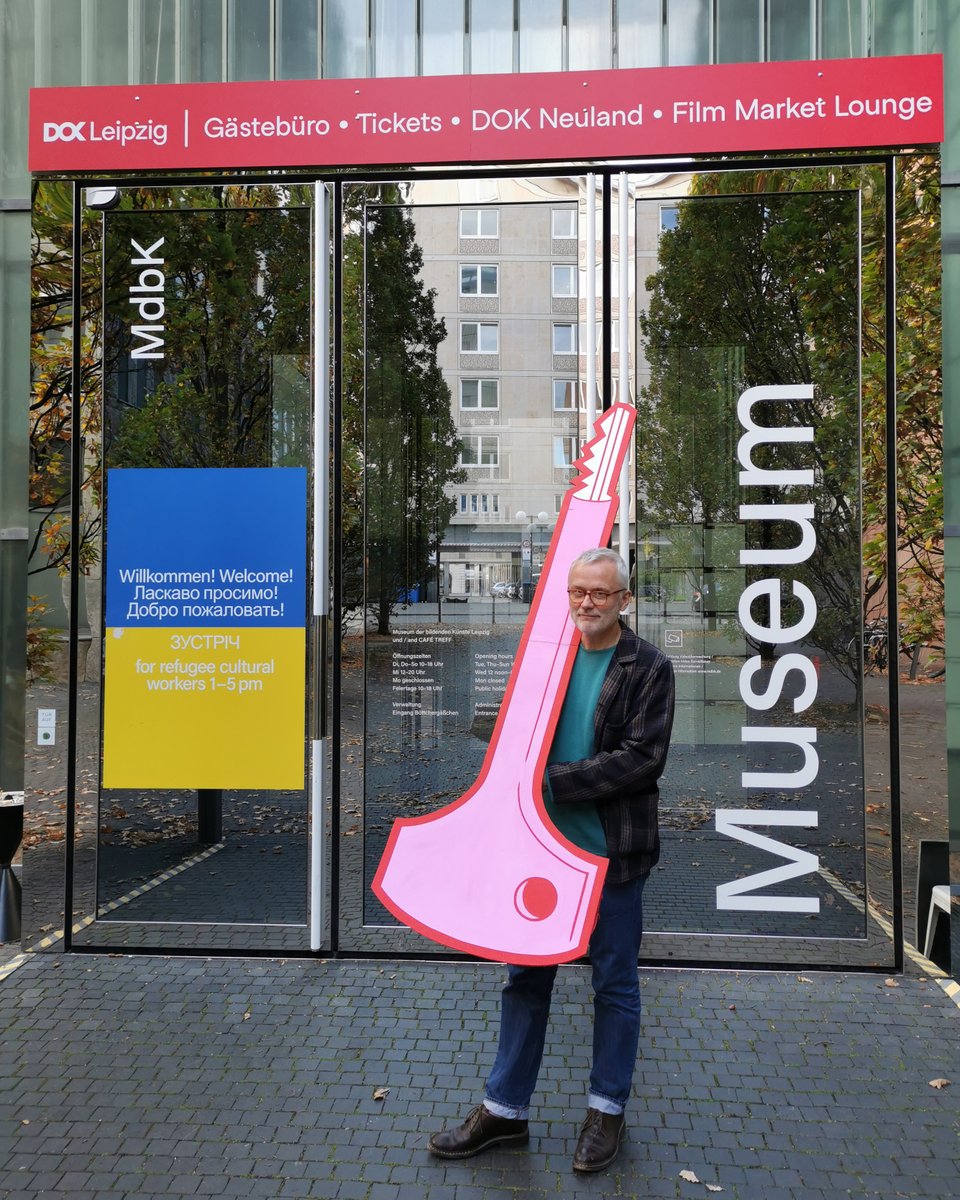 65 DOK Leipzig October 17–23, 2022
Svitlana Lishchynska received the Saxon Award for the Best Documentary Project by a Female Director at the opening ceremony of 65 DOK Leipzig.
Saxon State Minister for Culture and Tourism Barbara Klepsch presented the Saxon Award for the Best Documentary Project by a Female Director, worth 5,000 euros, to Ukrainian filmmaker Svitlana Lishchynska for her project A BIT OF A STRANGER. It tells the story of Svitlana's mother, daughter and granddaughter — three generations of a family from Mariupol who have lost their national identity due to the long-term imperial policy of Moscow and are currently facing the Russian war of aggression.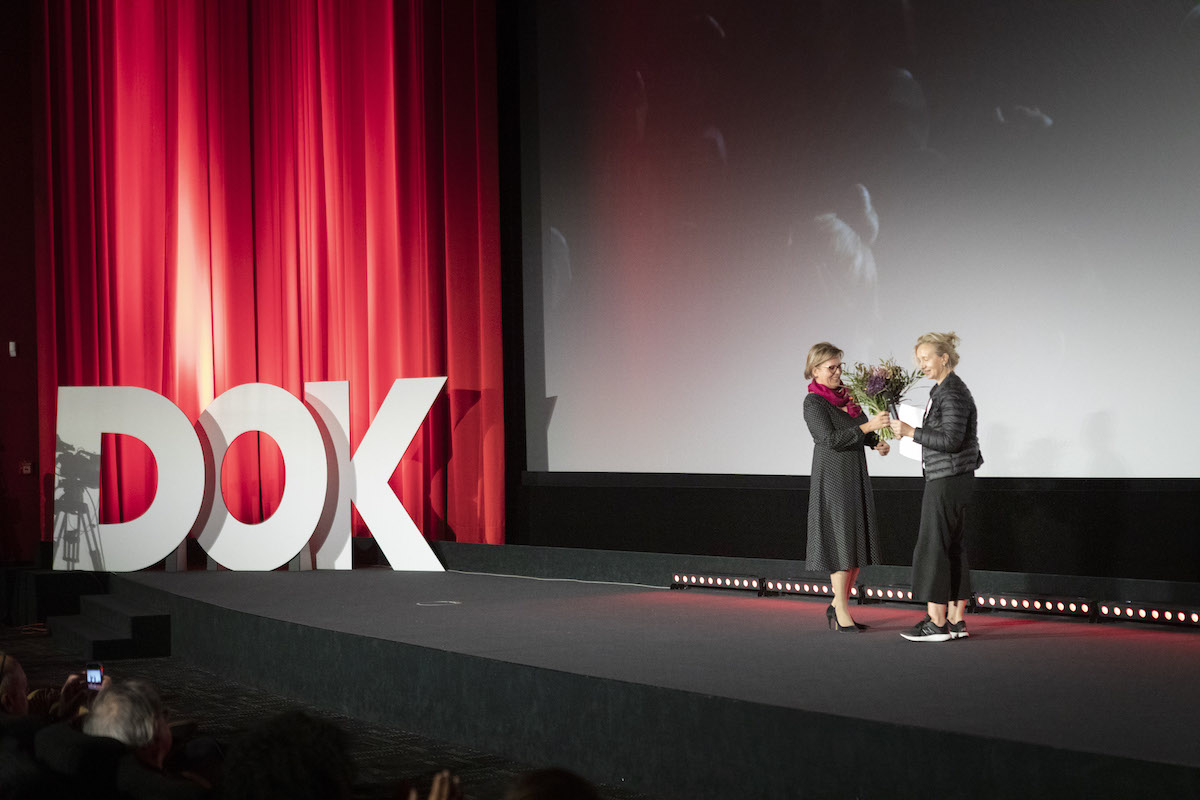 © 2022 DOK Leipzig, Viktoria Conzelmann
In the Competition for the 65 DOK Leipzig Audience Award, the Golden Dove including 3,000 Euros went to THREE WOMEN by Maxim Melnyk. In encounters with three independent women, Melnyk documents rural life in the Ukrainian village of Stuzhytsya near the EU border. "This film brings us images of joie de vivre and lightness. Images that we don't often see coming from that country at the moment. It creates connections and unites people through the screen," according to the statement by the audience jury.
The DEFA Sponsoring Prize, which includes 4,000 Euros granted by the DEFA Foundation, went to Maxim Melnyk for THREE WOMEN as well.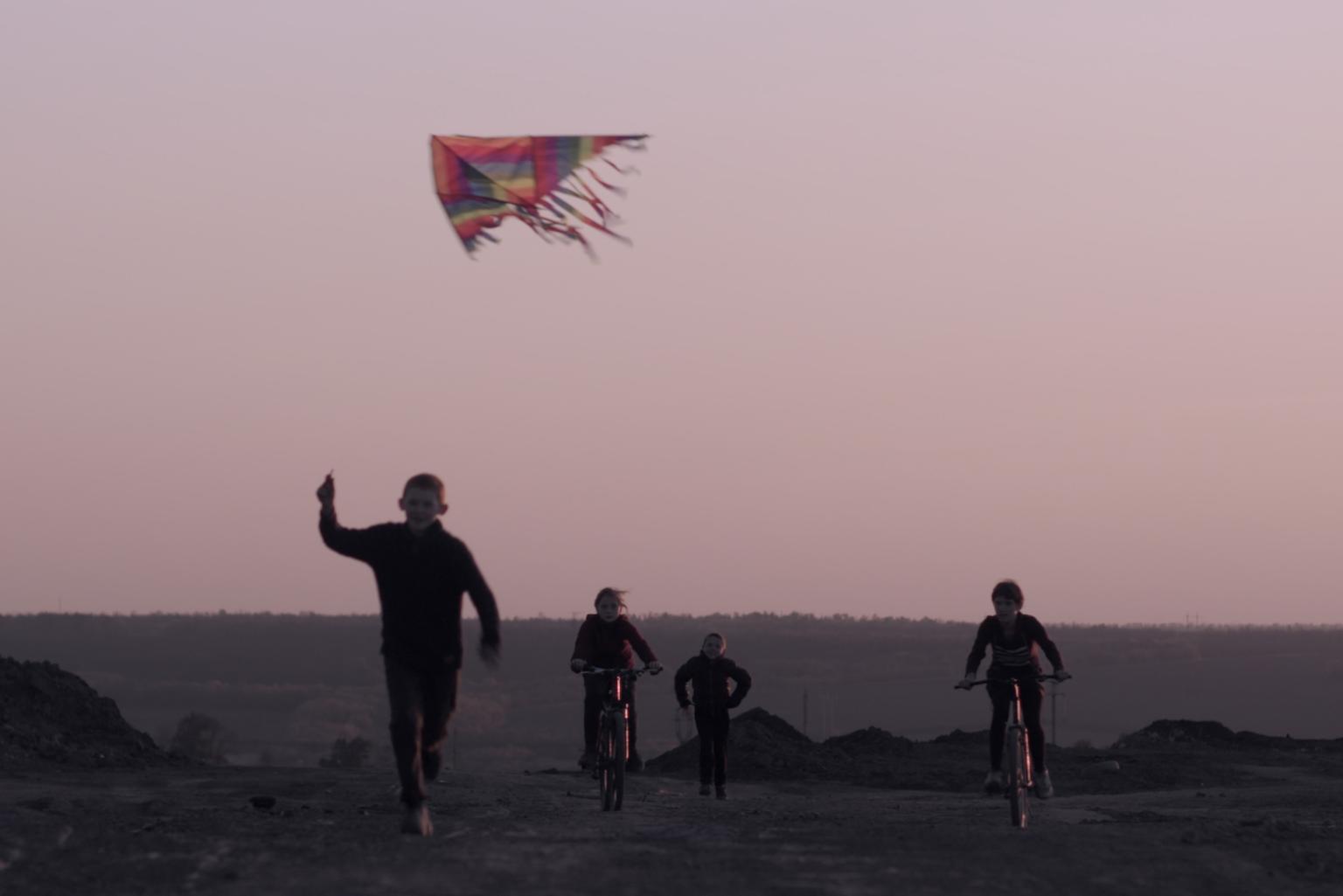 Spotlight on: Docudays UA 2022 at 65 DOK LEIPZIG

The DocuDays UA International Human Rights Documentary Film Festival could not be held in Kyiv this past March 2022 due to the Russian war of aggression against Ukraine. Therefore, in a show of solidarity with the Docudays UA team, DOK Leipzig is providing a venue for the 19th edition of that festival. This programme presents the four films selected for the DOCU/UKRAINE national competition along with the opening film BONEY PILES [image above and PDF with the loglines of all five films here] These works paint a nuanced portrait of the country, telling of property disputes in Kyiv and flea markets in Odesa, of first responders amid the pandemic in rural Transcarpathia, and also of the consequences of the war that has been going on in eastern Ukraine since 2014.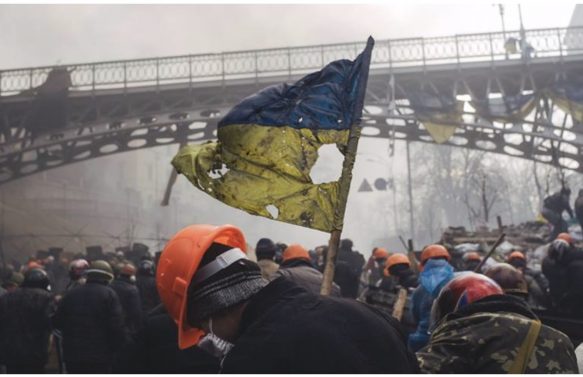 Kundschafter Filmproduktion | BALAPOLIS sp.zo.o.
 IDFA's FALL SPECIAL Wedensday evening September 28, 2022.
With THE HAMLET SYNDROME by Elwira Niewiera, Piotr Rosolowski, winner of Roman Brodmann Prize as well as Grand Prix Semaine de la critique – 75 Locarno IFF,  on Wednesday evening September 28, 2022 IDFA's Fall Special is taking place in Pathé Tuschinski in Amsterdam. IT's the Dutch premiere of the documentary. The screening will be followed by a Q&A with Elwira Niewiera.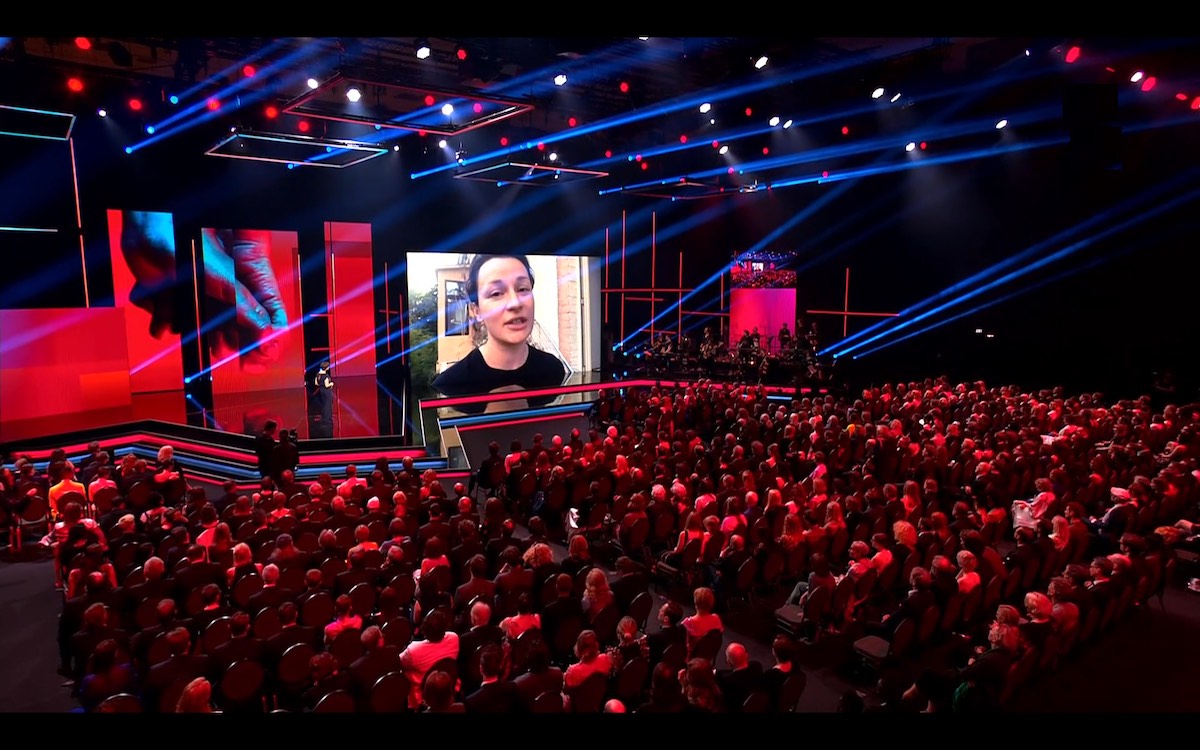 #lola22 DEUTSCHER FILMPREIS — German Film Award
with Marina Stepanska and Alisa Kovalenko live from Ukraine
Sandra Maischberger announced the award ceremony of BEST DOCUMENTARY #lola22 streaming two video from the Ukraine.
Wladimir Klitschko very much regrets that the circumstances are so bad, that he cannot be in Berlin to discuss the importance of documentaries with the filmmakers on site.
Marina Stepanska thanked for the donations from Germany, which were made on the basis of an initiative by AG DOK members, to which the German Film Academy, Producers' Association, German Academy for Television, Crew United and from Austria the interest group documentary dok. at, the Producers' Alliance The producers and the Academy of Austrian Film joined to support Ukrainian documentary filmmakers with protective vests and equipment in their work.
Alisa Kovalenko, who many of us know from her documentary ALISA IN WARLAND premiering at IDFA 2015.
ALISA IN WARLAND IDFA 2015 catalogue: Alisa is a 26-year-old student at the film academy in Kiev. Her life is pretty normal until the day that President Viktor Yanukovych refuses to sign the EU-Ukraine Association Agreement. Suddenly, everything changes: protests erupt in the capital, with the inhabitants demanding the president's resignation. Alisa witnesses the demonstrations and embarks on a trip through Ukraine in an attempt to understand the war. Her journey takes her to the east of the country, where she comes across demonstrations again, this time of a pro-Russian character. Along the way, she faces shootings, explosions and the searing consequences of the war for the people of her country. Very much against her will, Alisa is then personally caught up in the war when she is arrested by separatists for spying. The risks she is taking also jeopardize her romantic relationship with a French journalist. This candid self-portrait shows us a sensitive, concerned woman in search of answers. The direct, often handheld camerawork gives us an impression of Ukraine in the wake of the protests and of the tensions that arose among the various population groups. 
WHAT'S AT STAKE IN UKRAINE a Filmmaker's Conversation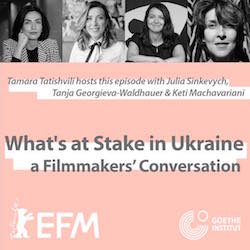 This podcast episode is a special edition dedicated to the current invasion of Ukraine. Tamara Tatishvili (Head of Training - MEDICI the Film Funding Journey) is moderating this episode and speaks with Julia Sinkevych (Producer, Ukraine), Tanja Georgieva-Waldhauer (Producer, Germany), and Keti Machavariani (Producer/ Director, Georgia). They talk about the fact that the war in Ukraine did not start on 24 February, but eight years ago with the annexation of Crimea. We hear four women and their fear on the one hand and their will to stand up for peace on the other. Film and cinema have enormous power; those have to be used and supported in the right way. Because the misuse for propaganda purposes is a real a danger. In this time more than ever the film industry needs to stand together. Filmmakers have the tools to reach a big audience. The industry should endorse Ukrainian film projects from the past to achieve awareness and gather financial resources to support the fight for freedom in Ukraine.
Industry Insights – The EFM Podcast is presented by the European Film Market of the Berlinale.
The podcast is available on all major podcast platforms, e.g. Spotify or Apple Podcasts
UKRAINE FOCUS @ Sheffield DocFest, June 23—28 June, 2022
Sheffield DocFest in solidarity with Ukraine Password: Palianytsia launch a collaborative documentary programme with Docudays UA, which will launch the British Council and Ukrainian Institute's 'UK/Ukraine Season of Culture'. The focus will launch with the World Premiere of One Day in Ukraine, by media activist and filmmaking collective Babylon'13. This co-created film centres on a single day during the war in Ukraine, March 14 2022.
The Ukraine focus includes work across the Film programme, Alternate Realities exhibition, Industry programme and Talks & Sessions with:
4 feature documentaries in the Official Selection
• FRAGILE MEMORY by Igor Ivanko, Ukraine, Slovakia
• ONE DAY IN UKRAINE by Volodymyr Tykhyy, Ukraine, Poland
• OUTSIDE by Olha Zhurba, Ukraine, Netherlands, Denmark
• OVERCOMING THE DARKNESS by Kinodopomoga, Ukraine
4 feature documentaries from Docudays UA Official Competition
Docudays UA is the leading international human rights documentary film festival in Ukraine. Prevented from taking place in Kyiv in March this year, due to the war, Docuday's presents the four Ukrainian films in its Official Competition selection at Sheffield DocFest:
• INFINITY ACCORDING TO FLORIAN by Oleksiy Radynski
• MOUNTAINS AN HEAVEN IN BETWEEN by Dmytro Hreshko
• PLAI. A MOUNTAIN PATH by Eva Dzhyshyashvili
• PRYVOZ byEva Neymann
Docudays curated screening with talk that contextualises Russia's current military aggression against Ukraine, looking at how Ukrainian documentary filmmakers have experienced and comprehended the years since the Revolution of Dignity (Maidan), follows the screening of two films:
• PEACE & TRANQUILITY by Myro Klochko 
• BONEY PILES by Taras Tomenko
VR, art and TikTok works in our Alternate Realities exhibition
Alternate Realities exhibits and showcases innovative non-fiction and immersive documentary in all forms with a flagship exhibition at Sheffield's Site Gallery and other works across the city.
5 projects in development selected for our MeetMarket
• INTERCEPTED by Oksana Karpovych, Producers: Giacomo Nudi, Rocío Barba Fuentes, Ukraine/Canada
• IVAN & MARTA A DAY BEFORE THE WAR by Sergey Bukovsky, Producer: Oksana Ivaniouk, Ukraine
• SHUT THE FUCK UP! by Taisiia Kutuzova, Producers: Stephane Siohan, Olga Beskhmelnytsina, Ukraine/France
• UP IN THE AIR by Oksana Syhareva, Producers: Oksana Syhareva, Nataliia Pogudina, Karla Stojakova, Ukraine/CzechRepublic
3 projects in Works-in-Progress in partnership with Ukrainian Institute
• EXPEDITION 49 by Alisa Kovalenko, Producers: Stephane Siohan, Valery Kalmykov, Tomek Morawski, Ukraine/France/Poland
• FRAGMENTS OF ICE by Maria Stoianova, Producers: Alina Gorlova, Maksym Nakonechnyi, Ukraine
• IRON BUTTERFLIES by Roman Liubiy, Ukraine/Germany/France
This comprehensive programme is an expression of solidarity with Ukraine. It provides a powerful encounter with contemporary Ukrainian life – including the horrific reality of this war. It creates a space in which Ukrainian filmmakers and artists can continue to have their work seen, develop new projects, and keep Ukrainian culture alive.
MARIUPOLIS 2 by Mantas Kvedaravicius
Sadly, the Lithuanian filmmaker Mantas Kvedaravicius, who directed MARIUPOLIS ©2016, was captured and murdered by the Russian army in Mariupol in early April 2022. His fiancée, Hanna Bilobrova, who was with him at the time, was able to bring back the footage filmed there and edited it with Mantas' editor Dounia Sichov. The film is entitled MARIUPOLIS 2 and premiered May 19 at 75 FESTIVAL DE CANNES 2022
.
 Mariupolis 2: footage saved from the ravages of the war in Ukraine written by Tarik Khaldi
VIKTOR DOK.international, the main award of 37 DOK.fest Munich goes to the French production TRENCHES by Loup Bureau, who accompanied Ukrainian soldiers fighting Russia-backed separatists in the Donbass. He shows how the soldiers try to lead a reasonably normal everyday life between explosions and enemy attacks. The Berlin based company FILMS BOUTIQUE is in charge of World Sales of the awarded documentary.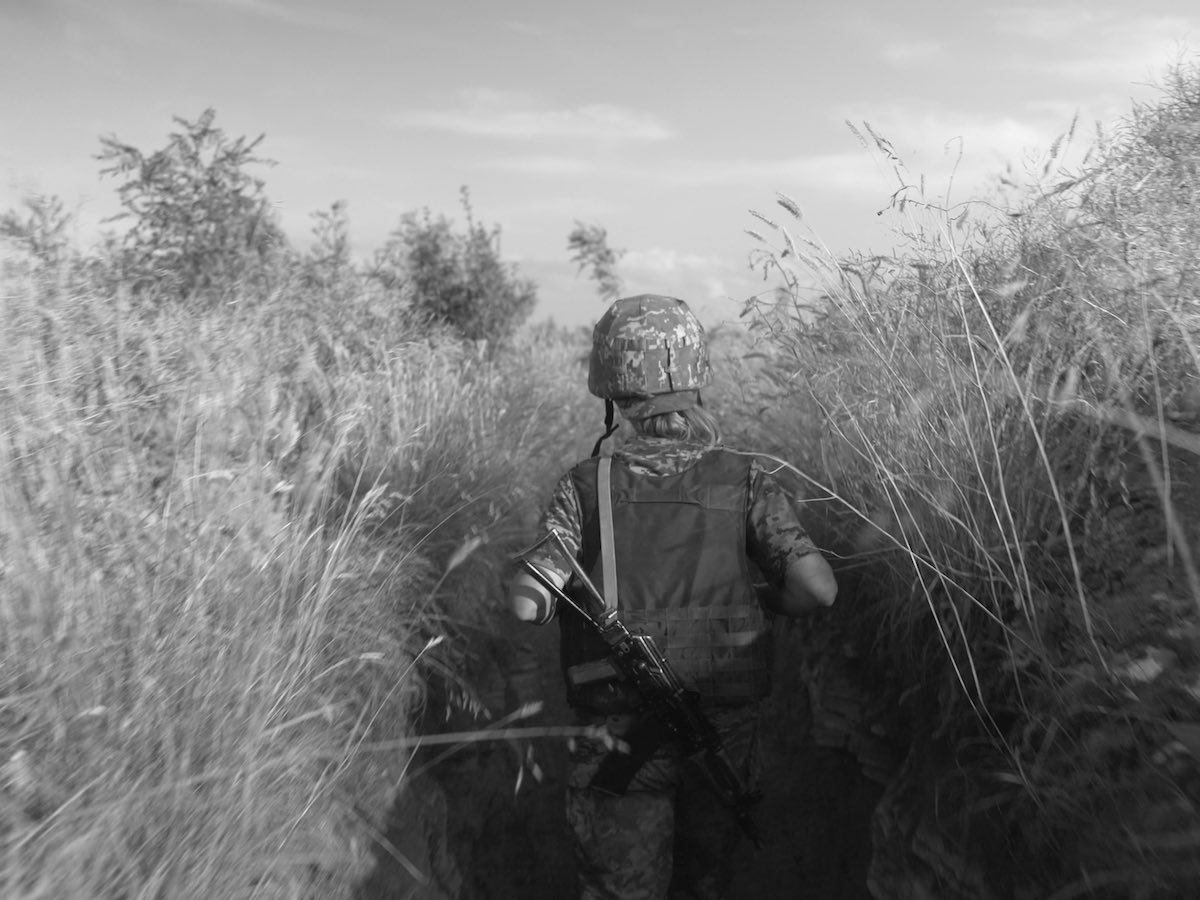 TRENCHES by French director Loup Bureau
VIKTOR DOK.international jury:
"For weeks, months, years they have been living in their trenches. Loup Bureau accompanied them there. This commitment alone is prize worthy. But TRENCHES is also a beautiful film: without any grandstanding, with a lot of respect for its protagonists and in a black and white that emphasizes the timelessness of war, Bureau documents life in the trenches, the daily shoveling and fastening, but also cooking, cutting hair, talking. The calmness that Bureau's pictures radiate is, of course, a deceptive one, which we – even as viewers – cannot forget for a second. At any time another attack can occur. And it takes place. The urgency of the film has increased immeasurably since its completion in 2021."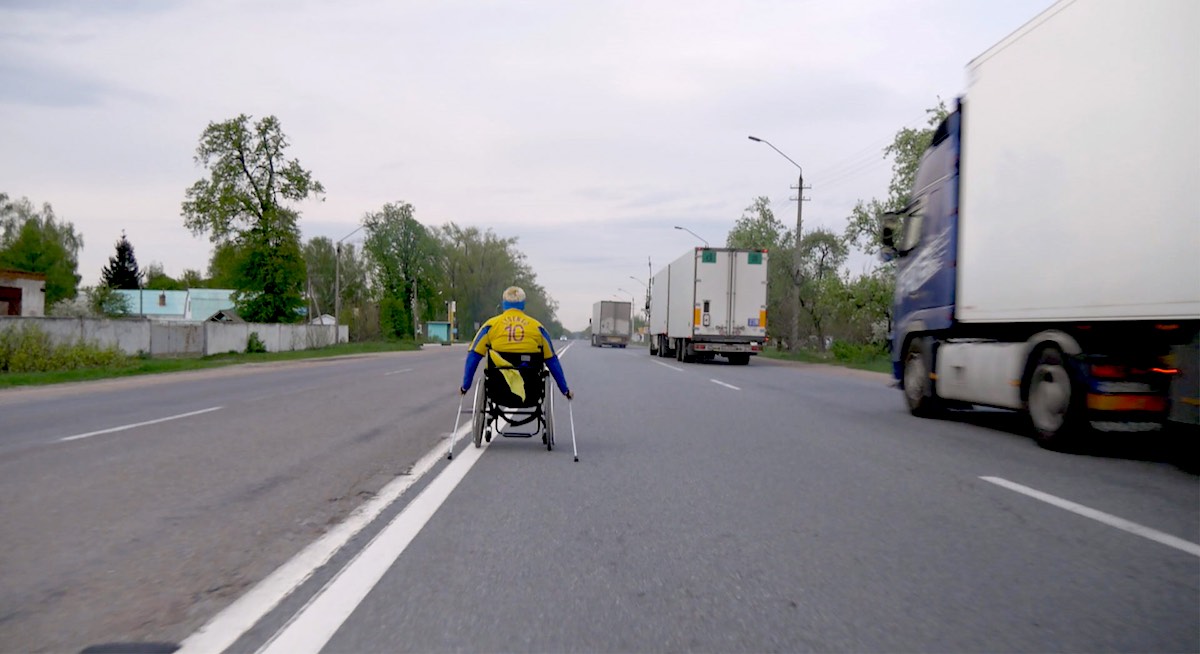 The Ukrainian director Lesia Kordonets receives the megaherz Student Award for PUSHING BOUNDARIES at the 37 DOK.fest Munich. The documentary follows five Ukrainian athletes preparing for the Paralympic Games in Rio de Janeiro when suddenly Putin's Russia annexes the Crimea, where the Ukrainian team's new training center is located. But the athletes don't want to give up their dream, continue their work out in other places under the most adverse conditions and, despite everything, try to qualify for the next Paralympic Games.
Jury: "Lesia's athletes are everyday heroes who suddenly come up against sporting, political and existential limits and yet tirelessly give everything to achieve their goals. In the film, every story is told unobtrusively and at eye level. PUSHING BOUNDARIES, that means pushing boundaries, expanding boundaries. The sensitive editing pushes boundaries as well and shows us that there are no disabled people – only people whith handicap. We learn what it means when we play down wars as 'conflicts'. The documentary is also about addressing uncomfortable truths, which was important to us in our decision, but PUSHING BOUNDARIES is not only an important film in this respect."
The film was also awarded with Prix Zonta 2021 at Nyon, Visions du Réel, Nyon, Best Directing Documentary –Zürcher Filmpreis 2021, as well as Brave Rebels Award 2022 at Budapest International Documentary Film Festival.
The Roman Brodmann Prize was awarded for the first time April 28, at the Roman Brodmann Colloquium in Berlin, honoring an outstanding political-investigative documentary film, is endowed with €10,000,  and goes to the Polish/German co–production The Hamlet Syndrome depicting the young Ukrainian generation scarred by war and political breakthroughs.
THE HAMLET SYNDROME | DAS HAMLET-SYNDROM by Elwira Niewiera, Piotr Rosolowski, 85min P: BALAPOLIS sp.zo.o., Kundschafter Filmprod, Neue Celluloid Fabrik
In view of Russia's brutal war of aggression on Ukraine, the 37th DOK.fest München is showing five films that deal with its background: four current films from Ukraine as well as the opening film NAWALNY about Russia's most important opposition figure Alexei Nawalny, which is running in the international competition.
Festival directors Daniel Sponsel and Adele Kohout: "The opening film comprehensively outlines that our expectation that stable democratic structures would be established in Russia after the collapse of the Soviet system did not come true. The idea of partnership oriented towards the economy and the market is also proving to be obsolete. The flourishing landscapes in the East are more or less reserved for the oligarchs, and the country under Putin remains trapped in the Soviet Union's claims to world power. The brutal present follows its long shadow of the past, which we did not want to see for so long. The first casualties of any war are truth and humanity. The films from and about Ukraine in our programme impressively testify to how the weakest members of a society are affected."
Online Talk : Ukraine : Filming in resistance.
THU 14.04 | 16:00-17:30pm | Online only visionsdureel.ch
Since 24 February, the war in Ukraine has also been conducted through the images that report on it or distort its reality. Visions du Réel wishes to offer a platform to young Ukrainian filmmakers and producers who are currently standing alongside their compatriots under the Russian bombs, to reflect and debate with them on the possibility of resisting the ongoing onslaught with images that document it. 
ICFR launches "Emergency Fund for Filmmakers" in Wake of Ukraine War.

The International Coalition for Filmmakers at Risk has set up a special "Emergency Fund for Filmmakers" for film practitioners directly in danger due to the ongoing war in Ukraine. The Coalition and the Fund have been canvassing for funding and donations as soon as war broke out. In the past days, significant financial contributions have been pledged by Germany's key national and regional film funding bodies (100K EUR), by La Scam*, the Netherlands Film Fund, and by many individual donors.
The German funds include Filmförderungsanstalt FFA, FilmFernsehFonds Bayern, Film- und Medienstiftung NRW, HessenFilm und Medien, Medienboard Berlin-Brandenburg, MFG - Medien- und Filmgesellschaft Baden-Württemberg, Mitteldeutsche Medienförderung, MOIN Filmförderung Hamburg Schleswig-Holstein, MV Filmförderung, nordmedia - Film- und Mediengesellschaft Niedersachsen/Bremen.
see also PR by IDFA .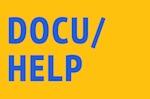 The NGO Docudays and Docudays UA festival team has initiated a fund to support Ukrainian filmmakers who are bravely and daringly documenting the events of the war in Ukraine right now: recording war crimes, filming footage for the international media and for their future films which will later give the world a more in-depth perspective on the situation in our country. Darya Bassel, producer and festival representative is one of eight on the board with the German Filmmakers SUPPORT FILMMAKERS UKRAINE, as well as Tanja Georgieva-Waldhauer.
Are there still heroines in Putin's Russia?
FAITH HOPE LOVE by Katja Fedulova ©2017
She finds three young, beautiful women, each fighting for their own vision of what their country should be. Their struggle offers a complex picture of modern Russian – full of dramatic, desperate, absurd and funny moments.
WEATHERMAKER by Stanislaw Mucha ©2021
The loneliest workplace in the world on a weather station on the edge of the Russian polar sea.
MOSCOW – ART AND THE CITY by Inga Wolfram ©2020
We introduce Moscow artists, designers and dancers to shed light on this latest chapter in the city's art history. Moscow's cultural scene dazzles these days with its splendid diversity.
POLISH SOLO – HOW DEMOCRACY IS DISMANTELED by Andrzej Klamt ©2021
The documentary analyses the new 'Polish Order' in its effects, with a special focus on Poland's conflict with the EU, the systematic dismantling of press freedom and women's rights in the country.
ICE OF CHERNOBYL by Maryna Dymshyts ©2019
Ice of Chernobyl is the treatise on the thrill of the forbidden: entering the restricted zone of a damaged nuclear power plant. 33 years after the disaster.?5 days and nights illegally in the restricted area, in Pripyat and on the Duga-1 antenna.?
CHERNOBYL THE INVISIBLE THIEF by Christoph Boekel ©2006
April 26th 1986. The day a nightmare scenario became horrific reality: the day reactor block 4 of the Chernobyl atomic power station exploded. The early summer heat, insufficient security measures and lack of knowledge and training exposed the emergency workers to extreme risk. One of them was the young artist Dmitrij Gutin. During the last days of his military service he was posted to the highly contaminated 30 km. zone around Chernobyl. He died just short of his 40th birthday, after many painful years of suffering the effects of radiation poisoning.
recomended Ukrainian films:
[CPH:DOX]*: 'Before the full-scale Russian invasion, Ukraine was sadly underrepresented in Western media. We have selected a number of strong films offering a range of views on life in the independent state whose existence is now threatened by Putin and his army.'
 [#dokfest2022 _ 37 DOK.fest Munich]
• A HOUSE MADE OF SPLINTERS by Simon Lereng Wilmont, 87min, DNK, SWE, FIN, UKR 2022, P: Cinephil, Final Cut for Real,
• DONBAS DAYS by Philipp Schaeffer, 16min, UKR, DE 2021, streetsfilm.
• NAWALNY by Daniel Roher, 98min, USA 2022, WS: Dogwoof
• PUSHIING BOUNDARIES by Lesia Kordonets, CH 2021, 102min, P: Dschoint Ventschr
• TRENCHES by Loup Bureau, FRA 2021, Loup Bureau, 85min, WS: Films Boutique