The Golden Dove in the German Competition Long Documentary and Animated Film in conjunction with 3,000 euros was presented to LIFT LIKE A GIRL, a joint Danish-Egyptian-German production by Mayye Zayed. The filmmaker follows Asmaa, aged 14 at the start, for four years. With the help of her coach, a former professional athlete, Asmaa makes her way to the top league in weightlifting in the streets of Alexandria.
The Silver Dove in the German Competition Short Documentary and Animated Film, in conjunction with 1,500 euros in prize money, has been awarded to ERWIN by Jan Soldat, a Austrian-German co-production.
For all the winners of the Golden and Silver Doves visit the page of the festival or watch the ceremony here.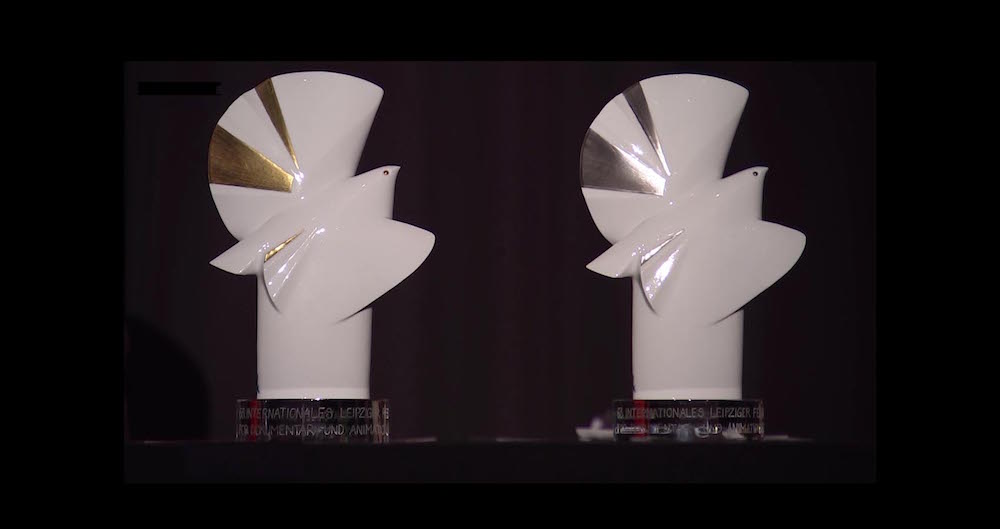 The recipients of the partnership awards are:
• DEFA Sponsoring Prize (4,000 euros): RIFT FINFINNEE by Daniel Kötter, Ethiopia, Germany
• Goethe-Institut Documentary Film Prize (2,000 euros): THE GUARDIAN by Martina Priessner, Germany
• ver.di Prize for Solidarity, Humanity and Fairness (2,500 euros): 80.000 SCHNITZELS by Hannah Schweier, Germany.
• Young Eyes Film Award (2,000 euros): OPERATION MOONBIRD by Dustin Lose, Germany 
• Gedanken-Aufschluss — Short Film: RIVEN THREADS by Deborah Jeromin, Germany
for all partnerships awards visit the page of the festival or watch the ceremony here.
All of the award-winning films as well as the remaining films offered online will continue to be available to audiences in Germany the streaming platform dok-leipzig.culturebase.org. The final films of the festival will be shown online on 14 November.
GERMAN COMPETITION: 
 The selection committee has chosen a total of 17 productions for the German Competitions for Long and Short Documentary and Animated Films, including works by Andreas Voigt, Jan Soldat, Carsten Rau, Martina Priessner, Bettina Ellerkamp and Jörg Heitmann. The filmmakers take a close look at Germany and are just as curious about local stories outside of Germany.
 INTERNATIONAL COMPETITIONS .
The films in the International Competitions tell the stories of Congolese war-disabled people struggling for compensation, of a legal and medical scandal in Argentina around an abortion and of the London lockdown during the Covid-19 pandemic. Some further films focus on the United States and use various approaches to provide a cinematic commentary on the state of the country. Shelly Silver returns to our festival with her new film GIRLS/MUSEUM that follows girls from seven to nineteen years of age looking at works of arts in the Museum of Fine Arts Leipzig (MdbK), most of which were created by men.
THE GOLDEN SECTION  — COMPETITION FOR THE AUDIENCE AWARD
 Kids DOK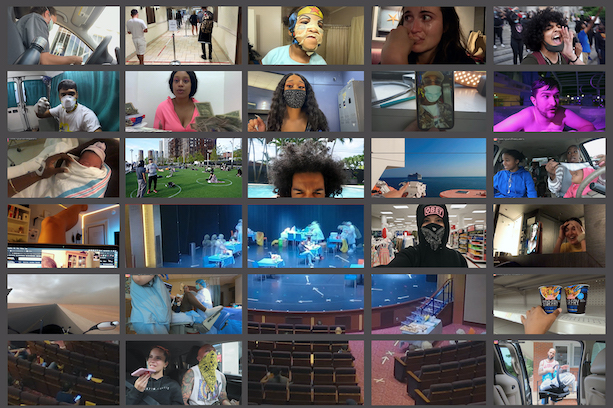 VIRAL by Udi Nir & Sagi Bornstein, 8x10 or 90min
DOK Preview  Germany Live Presentation
Monday, 26 October, 15:30 – 17:00 (CET)
Moderated by: Simone Baumann ( german films) & Tanja Georgieva (Elemag Pictures, Gera)
DOK Preview Germany is brought to you together with AG DOK & German Films.
DOK Industry: Every year, more than 1,800 professional guests from more than 60 countries come to Leipzig to participate in over 50 events under the umbrella of DOK Industry.
Up-and-coming filmmakers gaining their first experiences as well as award-winning, veteran filmmakers from across the globe mingle with the highest-quality German and international decision makers and funders in a cosy, laid back atmosphere. This is the meeting place for artistic documentary and a growing hub for interactive and immersive arts practitioners and experts.
• 120+ festival programmers
• 300+ commissioners, buyers, distributors, sales agents and funders
• 350+ producers
• More than 1,100 scheduled individual meetings at the Co-Pro Market and Meet the Experts Meetings
• Daily networking Get Together cocktails and parties
• Over 20,000 € in services and prizes to win
• Interactive Conference Day with 80 immersive artists and experts
Due COVID-19 crisis head of DOK Industry Brigid O'Shea is preparing the very first online edition of the DOK Industry Programme at DOK Leipzig 2020.
 WEBINAR: Get to know your DOK Co-Pro
© 2017 Thomas Dietze - DOK Leipzig
This year again, AG DOK will host/hosted an event at DOK Leipzig. Due to the pandemic, it will take/took place online as all the others DOK Industry events on Monday, October 26, 2020 with the Topic FILM FESTIVALS: FRIEND OR FOE? / FESTIVALS: FREUND ODER FEIND? 
[The event has been recorded and is available in the youtube channel of AG DOK: https://youtu.be/AhGgqpGx63Q]
In the internal part in the morning there will be a discussion with filmmakers, producers, distributors and cinema operators about the increasing relevance of festivals for the exploitation chain of documentary films and the consequences of digitalisation in this area. Together there will be explored how the festival world must look like in order to provide the ideal basis for the successful exploitation of cinema documentaries.
The results of the workshop will be presented in a publicly accessible [ZOOM]webinar in the afternoon:
14:00 h to approx. 15:00 here: https://us02web.zoom.us/j/88516226867
Spectators* can participate via the chat function. The presentation is recorded and will be available on the websites of AG DOK and DOK Leipzig.
With directors and producers susan gluth (gluthfilm) & Hauke Wendler (Pier 53), producers Ira Tondowski (Tondowski Film) & Erik Winker (CORSO Film), cinemamanagers Christian Pfeil (AG-Kino) & Petra Rockenfeller (Lichtburg Filmpalast Oberhausen). World Sales agents Elina Kewitz (New Docs) und Stefan Kloos (Rise and Shine World Sales), distributers Holger Recktenwald (mindjazz pictures) & Joachim Kühn (RFF — RealFiction Filmverleih). Further with Simone Baumann (German Films) & Katrin Mersmann (FFHSH) .
FESTIVALS: FREUND ODER FEIND?
You can find more about the workshops and their guests here—German only—.
...as single page
•  63 DOK Leipzig 2020 .
•  62 DOK Leipzig 2019 .
•  61 DOK Leipzig 2018 .