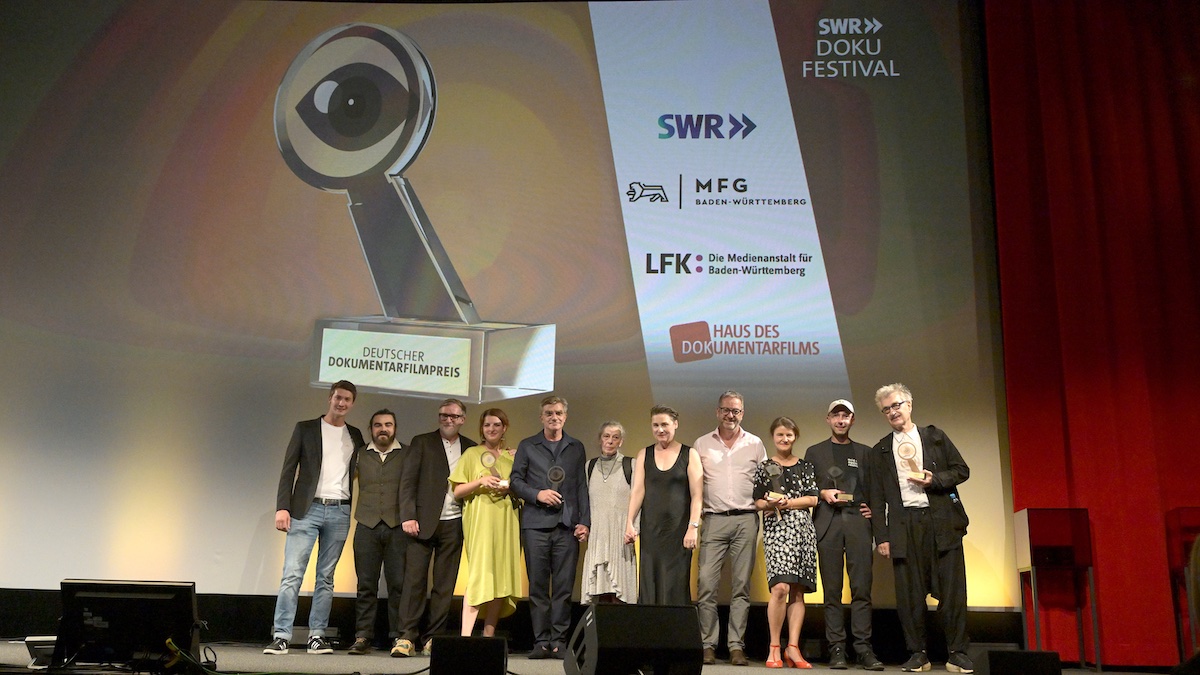 Stuttgart, June 30, 2023
KASH KASH by Lea Najjar as well as WHEN SPRING CAME TO BUCHA by Mila Teshaieva, Marcus Lenz are awarded with the GERMAN DOCUMENTARY AWARD  2023.
The HDF sposorship award goes to NASIM by Ole Jacobs, Arne Büttner.
BETTINA by Lutz Pehnert is the winner of the SWR MUSIC AWARD.
BEYOND REVOLUTION – FIGHTING FOR DEMOCRACY | GENERATION EUROMAIDAN – SEHNSUCHT NACH DEMOKRATIE by Kristof Gerega gets awarded by the Audience of SWR Landesschau.
HONORARY AWARD 2023 goes to Wim Wenders.
...more information –German only– here.
The 7th edition of the SWR Doku Festival will take place in Stuttgart from June 27 to 30, 2023. Twelve films have been nominated for the GERMAN DOCUMENTARY AWARD, covering a broad range of topics and creativity. The award ceremony will take place at the end of the film festival, on June 30, 2023 in Stuttgart.
HONORARY AWARD 2023 goes to Wim Wenders.
The SWR Doku Festival is progamming three of his documentaries such as
• TOKYO-GA ©1985
• BUENA VISTA SOCIAL CLUB @1999
• PINA ©2011.
And as well honoring him by screening the portrait by Eric Friedler and Andreas Frege
• WIM WENDERS – DESPERADO ©2020.
GERMAN DOCUMENTARY AWARD | DEUTSCHER DOKUMENTARFILM PREIS 2023 NOMINEES:
BETTINA by Lutz Pehnert, 107min, P: solo:film GmbH,
IGOR LEVIT – NO FEAR by Regina Schilling, 118min, P: zero one film GmbH,
KLASSIK UNTERM HAKENKREUZ – DER MAESTRO UND DIE CELLISTIN VON AUSCHWITZ | MUSIC UNDER THE SWASTIKA – THE MAESTRO AND THE CELLIST OF AUSCHWITZ by Christian Berger, 86min, P: 3B-Produktion, WS: Autentic,
as single page:
• German Documentary Award 2023 •
• German Documentary Award 2022 •
• German Documentary Award 2020 •
• German Documentary Award 2019 •
• German Documentary Award 2018 •