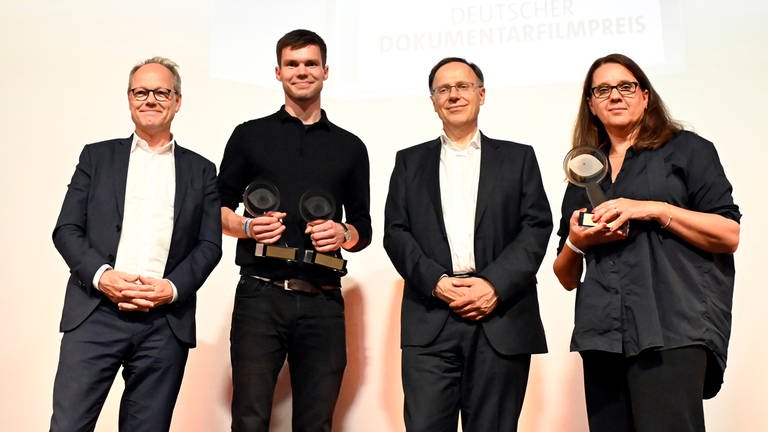 Prof. Dr. Kai Gniffke, Franz Böhm, Carl Bergengruen, Maria Speth
The Honorary Lifetime Achievement Award 2022 goes to WERNER HERZOG .
"...a great personality whose work inspires and inspires generations of filmmakers. For almost six decades now, he has taken his camera into parts of our world where no other director has dared to go, to tell stories in a way that no one else even considered. His films impressively demonstrate why Werner Herzog is regarded as one of the boldest and most visionary filmmakers of our time – a director whom both Milos Forman and Francois Truffaut described as 'the greatest living filmmaker'. On behalf of the SWR Doku Festival, I would like to congratulate Werner Herzog on receiving the Honorary Award of the German Documentary Award." CEO of SWR, Prof. Dr. Kai Gniffke says.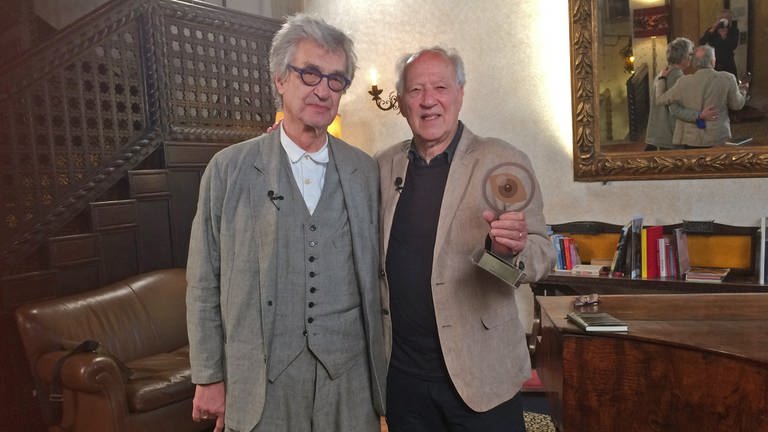 Wim Wenders
presents the Ehrenpreis – Deutscher Dokumentarfilmpreis to 
Out of 100 submissions an independent jury, Prof. Regina Ziegler, Gero von Boehm, Prof. Aelrun Goette, Prof. Astrid Pellengahr and Prof. Bettina Reitz nominated twelve documentaries for the German Documentary Award as well as three documentaries for original score in a German documentary production. Interview with Prof. Regina Ziegler __German only__
 
2022 the members of the jury Music Award SWR are Fola Dada, Rainer Homburg and CAMPINO aka Andreas Frege. __Interview German only___
as single page:
• German Documentary Award 2022 •
• German Documentary Award 2020 •
• German Documentary Award 2019 •
• German Documentary Award 2018 •
Editor german documentaries Ingri Mola