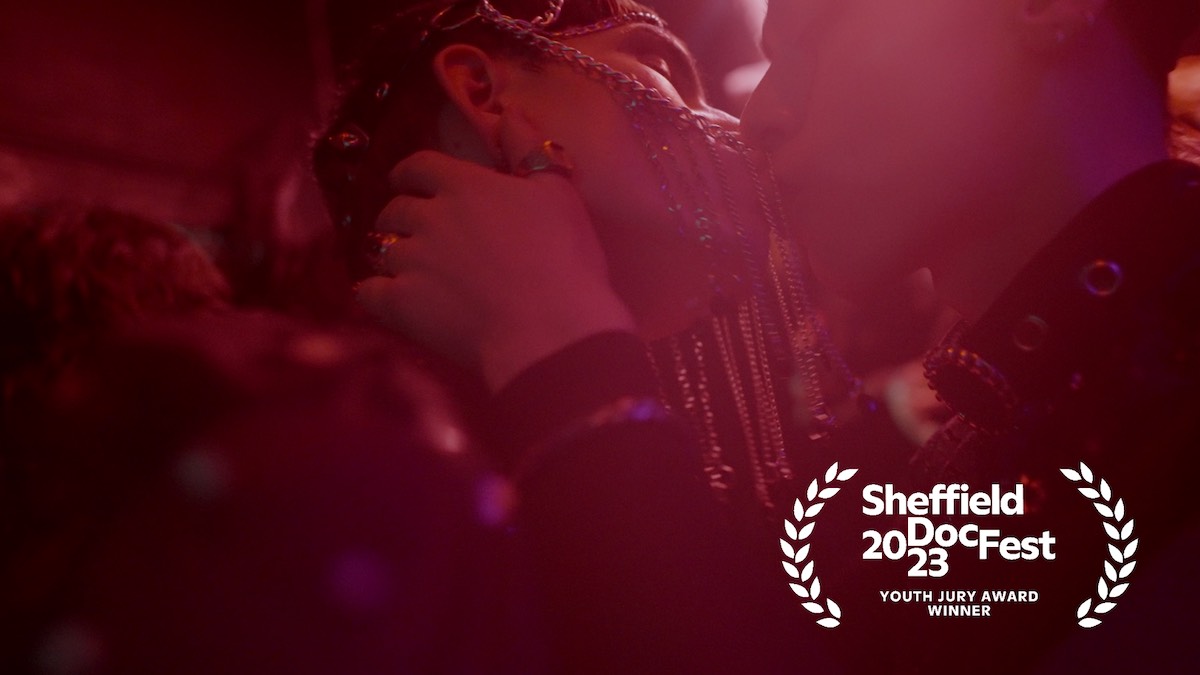 The Youth Jury Award
was presented to
ANHELL69
by Theo Montoya by five of the UK's most passionate young documentary lovers to celebrate non-fiction cinema. 
The jury, Alexandra Judkins, Amanda Daud, Annabel Bai Jackson, Jenny Luisa Barruol and Tymofii Donets, who curated a selection of seven films to be considered in a mentored deliberation said: "To us, The Youth Jury Award means the future of documentary filmmaking - films that push the boundary of the form, are inclusive and diverse, and champion voices left out of the conversation. We're at a time in which documentary filmmakers are self-reflexive in their approach, and the films in our selection do just that. They interrogate the struggles for young filmmakers and the lack of representations of voices within our industry and show the future of documentary filmmaking as exciting and innovative. One film encompasses exactly what the award represents to us as a generation. It is boundary breaking, it is unique, it's visually stunning and genre defying. The film is an act of resistance against documentary conventions and we are proud to give the award to Theo Montoya's Annhell69!"
The Tim Hethering Award goes to the Ukraine production 20 DAYS IN MARIUPOL by Mstyslav Chernov. The Special Mention goes to TOTAL TRUST by Jialing Zhang. The jury, Julian Carrington, Bruno Jorge and Katayoon Shahabi, said: "A film of profound political bravery that draws the audience into a chilling dystopian reality, TOTAL TRUST honours those Chinese citizens valiantly standing against a totalitarian regime now supercharged by seemingly omniscient surveillance technology. We extend our congratulations to director Jialing Zhang."
Browse all the other JURY AWARDS here.
This year's festival, June 14-19, saw international and UK delegate attendance rise by 17% compared to 2022. More than 2550 delegates from more than 60 countries attended the five day festival – up from 2188 delegates attending in 2022. More than 190 Industry Representatives from 93 companies and 19 countries took in-person meetings with selected projects and talents over the course of the festival market days.

 37 World Premieres, 20 International Premieres, 10 European Premieres, 47 UK Premieres and 8 retrospective films, from 52 countries of production
 
The 30th edition of Sheffield DocFest will take place in Sheffield from Wednesday 14 June to Monday 19 June 2023. The MeetMarket will take place on Thursday 15 June and Friday 16 June, allowing Industry Professionals the opportunity to experience the opening of the Festival. Browse information on the full public programme for Sheffield DocFest 2023 here.
LineUp German documentary productions and co-productions:

Browse all films A-Z in the programme of 30 Sheffield DocFest here.
There will be a German delegation. More Information ___German only___ here.
The selection for the 18th edition of the pitching forum, the MeetMarket, which will take place on Thursday 15 and Friday 16 of June 202 is published here. The slate includes 48 documentary projects – 5of them with German participation – , in development or at production stage, to be pitched in one-to-one meetings to international and UK industry representatives and experts.
The 48 projects in the 2023 edition encompass 35 countries of production/co-production: Belgium, Bulgaria, Canada, Chile, China, Denmark, Ecuador, Finland, France, Georgia, Germany, India, Iran, Ireland, Israel, Italy, Japan, Mexico, Netherlands, Nicaragua, Nigeria, Northern Ireland, Norway, Palestine, Philippines, Poland, Scotland, Singapore, South Africa, South Korea, Sweden, Ukraine, United Kingdom, USA, and Venezuela.
Drawn from over 500 submissions, new work will be presented from directors including: ... Ike Nnaebue of No U-Turn, a project developed as part of Generation Africa, screened at 72 BERLINALE, Docs Against Gravity, 29 Sheffield DocFest, HRWFF – Human Rights Watch FF  a.o.
Inspired by #WimWenders' book A SENSE OF PLACE, the anthology project 'Iran: A Sense of Place' sees a group of Iranian filmmakers develop new work inspired by a connection to place. Four of the 'Iran – Sense of Place' films are presented at #SheffDocFest2023, followed by a discussion with the filmmakers, who were mentored by Wim Wenders and Hella Wenders, and project curator Afsun Moshiry. The programme was developed by Afsun Moshiry (Road River Films) Wim Wenders Foundation and is co-produced by Pejman Foundation and La Onda Productions.
The five projects with German participation are:
CASAS MUERTAS  rough cut project
Venezuela submerged and dark. The present of Venezuelans trapped in exile in their own country, drowned by the whim of some barbarians who rule it. Isabel, Jesús, Darwin and Juan Pablo's parents survive by resisting, desperate and cornered between flight, hunger and resilience.
Director: Rosana Matecki | Producers: Rosana Matecki, Natalia Imaz (Parabellum Film), Claudia Lepage | Executive Producers: Rosana Matecki, Natalia Imaz (Parabellum Film), Claudia Lepage [Venezuela, Ecuador, Germany, Spain]
FINDING EL DORADO 
Finding El Dorado is a journey through Europe, portraying the lives of Westafrican migrants who (seemingly) made it – in the eyes of the ones back home. Was it all worth it? What is their perspective?
Director: Ike Nnaebue | Producers: Asbirg Naranjo (Andersona Films & Amuché prod),  Ike Nnaebue [Germany, Nigeria]
 MOLKA 
Two filmmakers follow South Korean survivors and activists in their fight against Korea's 'spy-cam epidemic', only to discover the issue is closer to home than they could have ever imagined. 
Directors: Ieva Zellite, Olivia Neller | Producer: Andrew McLain [South Korea, United Kingdom, Germany]
MOSCOW NIGHTS
How could the current war in Ukraine have been prevented?  Thirty years ago, the New Thinking of Mikhail Gorbachev was dismissed as a utopian fantasy, but a chance for long-lasting peace was lost forever in the pursuit of short-term gain.
Director: Irina Maldea | Producers: Brendan Culleton (Akajava films), Sorin Manu, Ralitsa Golemanova [Ireland, Germany, Bulgaria]
TENS ACROSS THE BORDERS
Four Southeast Asian youth discover the colorful and dynamic vogue and ballroom subculture. We witness their journey to build their own ballroom families, connect with voguing's source in New York City, and grow a flourishing queer community across the region.
Director: Chan Sze-Wei | Producers: Alemberg Ang (Daluyong Studios), Chan Sze-Wei | Executive Producers: Daniel Karslake, Derren Lawford (DARE Pictures) [Philippines, Singapore, Germany, United Kingdom]
Discover the range of venues across Sheffield city centre, most within walking distance from the train station.
 More information ___German only___
SVE THE DATE
31 Sheffield Documentary Filmfestival, June 12-17, 2024. [SUBMISSION]
as single page:
• 30 Sheffield DocFest 2023 •
• 29 Sheffield DocFest 2022 •
• 28 Sheffield Doc|Fest 2021 •
• 27 Sheffield Doc|Fest 2020 •
• 26 Sheffield Doc|Fest 2019 •
• 25 Sheffield Doc|Fest 2018 •
• 24 Sheffield Doc|Fest 2017 •
30 Sheffield DocFest Festival Report:
"This year, we celebrated our 30th anniversary edition in Sheffield and online from 14 - 19 June, sparking our audiences' curiosity through a diverse array of events and voices. Our 2023 programme boasted 122 films, including 38 World Premieres, 19 International Premieres, 10 European Premieres, 47 UK Premieres and 8 retrospective films, from 52 countries of production with 43 languages represented. We had over 37,821 in-person admissions and a further 4,724 online views of films in the programme and welcomed more than 2270 delegates to Sheffield."