It's not over till it's over! CPH:DOX 2020 continues online until April 30 with an extensive selection of documentaries, available for everyone based in Denmark.
CPH:CONFERENCE 2020 live on Facebook
­
­Due to the current global situation, the CPH:CONFERENCE will be streamed live between Monday, 23rd and Friday 27th of March on the CPH:DOX Facebook page - no accreditation is needed, the access is for free for everyone. Please find below a short overview of the updated schedule. For more programme details please visit CPH:CONFERENCE.
Monday 23 March, 14.00 – 16.00 GMT+1
Science is Culture
Curated and moderated by Jessica Harrop, Sandbox Films. Together with an array of invited guests she will explore new approaches to science communication, engaging new audiences who do not think of themselves as science enthusiasts.

Tuesday 24 March, 13.00 – 16.00 GMT+1
Art, Technology & Change: The Descent of Man
The host of the day is Mark Atkin, Crossover Labs. Mark will explore the role of the human in the Age of the Machine. He is joined by artists and thinkers who are questioning the place of (hu)man in our society and explore whether the interconnectedness of species extends to intelligent machines.

Wednesday 25 March, 12.00 – 16.00 GMT+1
Tackling Disruption: Industry, Platforms, Audiences
Host of the day is CEO and founder of Storytek Sten-Kristian Saluveer. Documentaries are more relevant today than ever... if only they reach the right audiences at the right time, through the right format, mastering platforms and data, and embracing converging forms of storytelling. Meet the frontrunners that are preparing the industry for tomorrow.

Thursday 26 March, 13.00 – 16.00 GMT+1
Making Media Matter when the World is on Fire
Hosted by Patricia Finneran, executive director at Story Matters. While the climate crisis rages and political divisions turn violent, how do we ensure that our movies matter, and who will fund them? Hear from global leaders in impact entertainment and a new crop of funders investing in real stories for change.

Friday 27 March, 13.00 – 16.00 GMT+1
Documenting the Future
The CPH:CONFERECE concludes with a a day curated and moderated by CO-Founder of DIS Lauren Boyle. While imagining new possibilities doesn't guarantee making them come true, it sets the stage for new potentialities. How can documentary practice not only capture what has happened, but what could happen? Hear from artists, filmmakers, and thinkers who find truth through fiction or the fictional in everyday truths.

CPH:CONFERENCE is presented in partnership with and in the framework of CPH:DOX, Copenhagen.


 
 Stay healthy!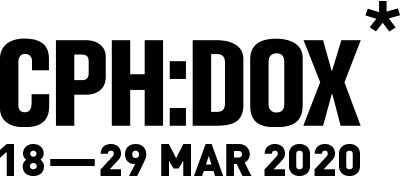 CPH:INDUSTRY online activities
CPH:FORUM is CPH:DOX's financing and co-production event dedicated to facilitate the development and financing of creative and visually strong film projects with international potential, whether they are features, series or new media projects. CPH:FORUM 2020 will take place in a digital version.
Click here for the CPH:FORUM 2020 online schedule March 23-27, 2020
CPH:MARKET is a curated film market that reflects CPH:DOX's overall commitment to visually and artistically strong documentary films and offers professionals easy access to an extensive line-up of 165 contemporary documentary titles selected for CPH:DOX 2020.
The online curated video library at Cinando is open to professionals during the entire festival 18-29 March 2020 and 30 days afterwards online through their CPH:DOX profile page.
CPH:LAB is CPH:DOX's talent development programme that encourages creative risk taking, celebrates raw talent, facilitates collaboration across borders and business sectors and supports visionaries to push the existing boundaries of documentary filmmaking.
This year the CPH:LAB participants will present their projects online to accredited guest on Kaleidoscope.fund on Thursday March 26 from 17:00-18:30. Pre-scheduled one-to-one meetings will be held on Friday March 27.
CPH:DOX 2020 is set to roll out in a digital version
In the light of the global COVID19-situation, this year CPH:DOX is rolling out in a digital version. The festival has partnered with Festival Scope to make an online film and talk programme available for a local audience. If you are based in Denmark, find out here how to participate in the festival. If you have an industry or press accreditation, more info will follow soon.
We have had three days to create a brand new platform. If it isn't working optimally, we promise that we will fix it. We have technicians working around the clock to help us. If you experience technical issues, please contact us at hotline@cphdox.dk or by phone on: +45 33 9307 34
1) At cphdox.dk/online you will find the program of films with additional debates and Q&A's, that can be watched in the period 18th March – 5th ofApril. More films are being added as we go along, so don't fear if yourfavourite film is not there yet! It might appear at some point.
2) Choose the film you want to see and start watching by clicking the "Rent6€" button and creating your personal user.
3) Enjoy the brand new virtual festival experience!



  The full programme for CPH:DOX 2020 was announced on February 20, 2020, with 52% of the 65 titles in competition directed by one or more female directors.


LineUp of German documentary productions and co-productions: 
 articles:
CPH:DOX unveils 2020 competition line-up with 50/50 gender split (exclusive) by Orlando Parfitt



as single page:
• CPH:DOX 2020
• CPH:DOX 2019