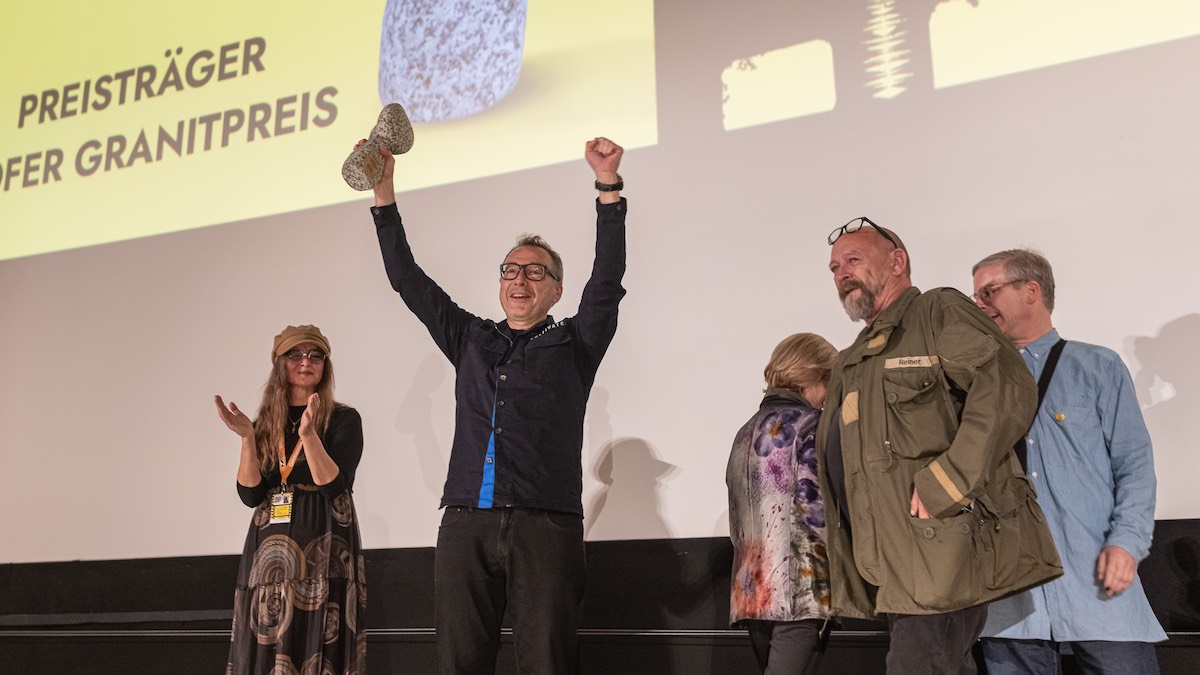 The 56 IFF Hof Documentary Award GRANIT 2022 goes to
The 56 IFF Hof Documentary Award GRANIT, endowed with 7,5600 Euros, goes to SHADOW CHILD by Jo Müller, according to the jury consisting of Angeliki Antoniou, Günter Schwaiger and Jens Meurer. The prize is donated by the Hofer Hermann and Bertl Müller Foundation.
From the citation: "The soulful portrait of a stirring artist whose life is identical to his moving photography. The film is powerful, honest and unpretentious in an unpretentious way. Simple! Swabian! Great!"

WE ARE NOT ALONE: Documentaries have always been a particular focus at Hof International Film Festival. Society is a complex subject and this year's documentaries offer a fine-tuned perspective on what is happening in our world. Many films deal with the impact of the pandemic, but also with other unsolved problems on this planet. But if we start to understand where these problems come from, if we begin to understand each other better, solutions can be found. At least, this is the motto of many of the films.
LineUp of German documentary productions and co-productions

ANGELIQUE by Elisabeth Kratzer, 27min
THE AUSTRONAUTS OF FEUERBACH | DIE AUSTRONAUTEN VON FEUERBACH by Johann Schilling, 28min
BIS MORGEN by Kevin Biele, 19min
EIGHT BROTHERS AND SISTERS | ACHT GESCHWISTER by Christoph Weinert, 89min
THE DEMINERS by Michael Urs Reber, 74min
FIRST WAVE | ERSTE WELLE by Christian Plähn, 55min
GLAUBE NIE, WAS ICH SINGE – WENZEL by Lew Hohmann, 106min
IT'S RAININMG WOMEN | DIE GLÄSERNE DECKE | LASIKATTO by Mari Soppela, 86min
LAST ROUND | LETZTE RUNDE by Elizaveta Snagovskaia, 78min
LOST IN LIMBO | EMRAH UND DAS GLÜCK by Johanna Bentz, 46min
NO BREAD WITHOUT CIRCUSES | KEIN BROT OHNE SPIELE by Susanna Wüstneck, 88min
NO EXIT – ACTOR IN PURGATORY | GESCHLOSSENE GESELLSCHAFT – SCHAUSPIELER IM FEGEFEUER by Lukas Benjamin Engel, 119min
RE:PLAY – THE LAST SEASON | RE:PLAY – DIE LETZTE SPIELZEIT by Clara Schmieder, Laura N. Junghanns, 89min
SHADOW CHILD – ANDREAS REINER – IMAGES OF THE OTHER LIFE | SCHATTENKIND – ANDREAS REINER – BILDER DES ANDEREN LEBENS by Jo Müller, 88min
SILVER HAIR STILL ROCKS by Matthias Lukoschek, Andrea Rüthlein, 95min
STILL WATERS | STILLE WASSER by Kevin Koch, 30min
WIN WIN by Friedrich Rackwitz, 84min, P: NEOS Film, FORTIS GREEN FILM+Medien, HFF Munich,
WURLITZER OR INVENTING PRESENT TIME | WURLITZER ODER DIE ERFINDUNG DER GEGENWART by Antje Starost, Hans Helmut Grotjahn, 95min
Find all films of the programm here.
Find daily updates at
• https://www.facebook.com/hoferfilmtage,
...as single page:
• 56 Hof IFF 2022 •
• 55 Hof IFF 2021 •
• 54 Hof IFF 2020 •