elemag pictures is a Gera/ Thüringen/ Germany based film production company focussing on developing, co-producing & producing high-quality international films with a strong appeal to large audiences worldwide.
Founded in late 2014 by Borislav and Viktor Chouchkov, Jan Krüger and Tanja Georgieva-Waldhauer elemag pictures trademark are a very high-artistic quality and remarkable human stories of originality, capable of engaging audiences around the globe.
The elemag pictures associates are recognized and multi-awarded at numerous national and international Filmfestivals, Awards and professional networks, members and pupils of European Producers Club, Documentary Association of Europe, EAVE, Atelier Cinema d´Europe and the European Filmacademy.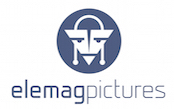 Elemag Pictures GmbH
Laasener Straße 1
07545 Gera | Germany
info@elemagpictures.com
www.elemagpictures.com