A total number of three german documentaries are awarded with the GRIMME PREIS in the section for INFORMATION & CULTURE  with four awards. The productions are:
YOU WERE MY LIFE. A Reunion With a Sea View | DU WARST MEIN LEBEN. Ein Wiedersehen mit Blick aufs Meer by Rosa Hannah Ziegler, produced by Wendländische Filmkooperative, broadcasted by Ab 18! 3sat/ZDF.   _jury_

I'M OKAY | ALLES GUT – Ankommen in Deutschland by Pia Lenz produced by PIER 53, Carsten Rau und Hauke Wendler GbR, broacasted by NDR/SWR.  _jury_

CAHIER AFRICAIN by Heidi Specogna, DoP Johann Feindt, coproduced by Stefan Tolz, FILMPUNKT, broadcasted by 3sat/ZDF.  _jury_ as well as Best Director of Photography (the third time) for Johann Feindt.

GRIMME PREIS is the German equivalent of the Emmys. Only movies that have been broadcasted by a public or private TVstation or provided in the internet in Germany can be nominated or awarded. Therefore some of the documentaries mentioned here for 2018 Grimme Preis you'll knew from former edtions of our catalogue, because they have been shown at festivals and German cinemas for about two years, the common usage of the retention period for coproductions with TVstations before broadcasted in German speaking territories.

THE NOMINEES:

LUISE & MOHAMED - Leaving for Algiers | – Aufbruch nach Algier by Beatrix Schwehm
[LUISE – EINE DEUTSCHE MUSLIMA won a 2007 Grimme Preis]
YOU WERE MY LIFE. A Reunion With a Sea View | Du warst mein Leben. Ein Wiedersehen mit Blick aufs Meer. by Rosa Hannah Ziegler
I'm okay | ALLES GUT - Ankommen in Deutschland by Pia Lenz
CAHIER AFRICAIN by Heidi Specogna
DIL LEYLA by Asli Özarslan
OVERGAMES by Lutz Dammbeck
PETER HANDKE – In the woods, might be late | - Bin Im Wald. Kann sein, dass ich mich verspäte... | by Corinna Belz
CIVIL SERVANTS | STAATSDIENER by Marie Wilke
DRAWING A LINE | STRICHE ZIEHEN by Gerd Kroske



The awards were presented by Annette Gerlach at a gala ceremony in the Theater of the City of Marl on April 13, 2018.
Here the very moments in some pictures by ©® Michael Neuhaus posted with the friendly permission of the Grimme-Institut. [FB]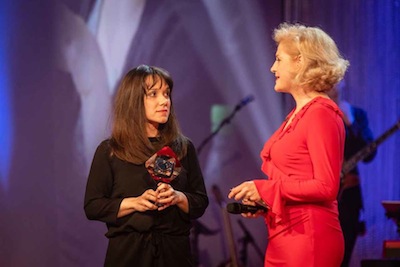 Rosa Hannah Ziegler for YOU WERE MY LIFE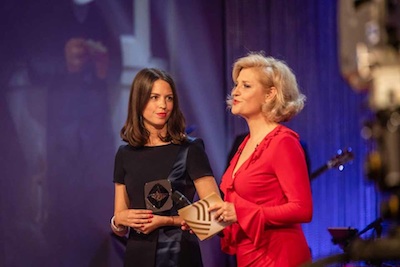 Pia Lenz for I'M OKAY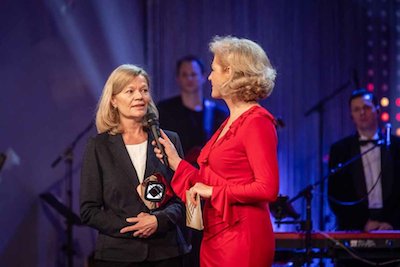 Heidi Specogna for CAHIER AFRICAIN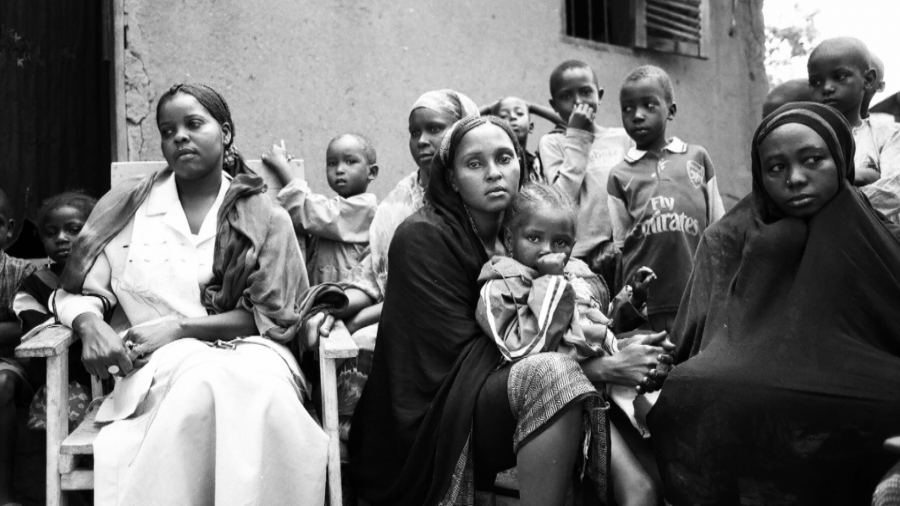 © Johann Feindt, Best DoP for CAHIER AFRICAIN