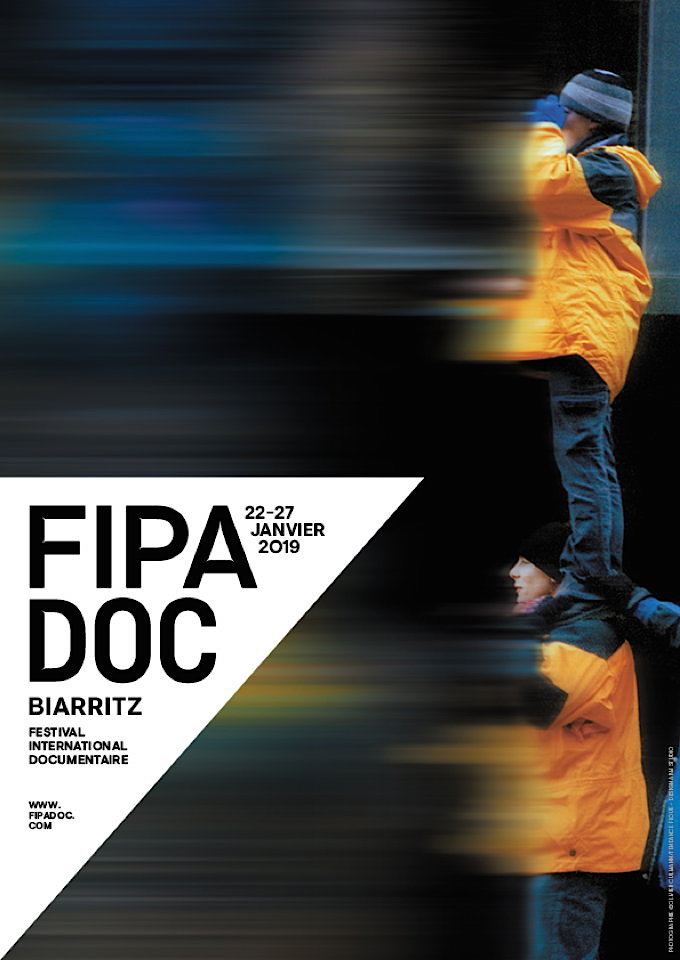 FIPADOC, festival international documentaire January 22–27, 2019 in Biarritz successor to Fipa, brings narrative, sound, and vision professionals together.
FIPADOC has besides the three major award categories as
• International Documentary
• French Documentary
• Musical Documentary
non-competition categories, such as Focus on a country of honour.
This year Germany has got the honour as partner country of FIPADOC and C. Cay Wesnigk from AG DOK board is in charge of the moderation of the panel discussion with representatives of international film festivals in Germany. The expected panelist will be Leena Passanen for DOK Leipzig, Adele Kohut for DOKfest Munich and  Gerhard Wissner for Kasseler Dokfest. Date: Friday, January 25, 2019 followed by the German Reception in the evening.
FIPADOC hosts several pitch sessions for new projects. Representatives of successful projects have the opportunity to pitch to a panel of selected professionals. One of them is an introduction to ARTEs new Grand d'accord Documentary Format and a panel on coproducing between France and Germany, where also some case studies will be presented on Thursday January 24, 2019.
Pitch and Promote Your Documentary a workshop by La Fémis Film School is offering the chance for directors, writers, producers, and representatives of documentary projects the chance to sharpen their promotional skills to better pitch their films to potential partners and investors. After working on the spoken and written aspects of promotion, participants will present their projects during one of FIPADOC's pitch sessions.
FIPADOC's film library provides on-demand viewing of any film from the official selection to accredited professionals, who can also access a complementary collection of standout films, handpicked by FIPADOC, exclusively available in the film library.
FIPADOC showcases a selection of more than 100 documentary films. The selections include all screen and writing formats, both in and out of competition: short, mid- or feature-length individual films and series including this LineUp of German documentary productions and co-productions.

International Documentary

Jeszcze dzien zycia | ANOTHER DAY OF LIFE by Raùl de la Fuente, Damian Nenow
Poland, Spain, Belgium, Germany, 2018, 85min.  The story of Polish journalist Kapuscinski, sent to cover the Angolan civil war and returning a different man. An animated account of a forgotten war. 
Musical Documentary

FUCK FAME by Lilian Franck, Robert Cibis
Germany, 2019, 80min. P: OVALmedia Berlin GmbH An unfiltered dive into the life of electro-rap curio UFFIE – a young woman who feels lost in a chaotic world of her own creation.
GOING FOR THE IMPOSSIBLE – The Conductor Mirga Gražinyte-Tyla by Daniela Schmidt-Langels
Germany, Lithuania, 2018, 87min. P: EuroArts Music International GmbH  Mirga is THE shooting star on the classical music scene today. Experience the most extraordinary conductor during her first term in the Birmingham Orchestra.
Jeune Création
DUBITO ERGO SUM - ICH ZWEIFLE ALSO BIN ICH | I DOUBT HENCE I AM by Florian Karner
Germany, 2017, 15min.   In times of social division and the post-truth debate, we follow conspiracy theorist Dr. Harald Daub into his world and way of thinking. A subtle portrait of clinical depression that deals with the question where doubt originates from.
EGAL GIBT ES NICHT | I DON'T CARE DOESN'T COUNT by Florian Hoffmann
Germany, 2017, 45min.   A crash course in politics: Paulina is the spokeswoman of the initiative <5 – KLEINER FÜNF – , committed to preventing hard-right populists (AfD)getting elected into the German House of Parliament.
LA BESTIA – TRAIN OF THE UNKNOWNS by Manuel Inacker
Germany, 2018, 23min. P: Filmuniversität Babelsberg KONRAD WOLF   A film about a Mexican shelter where migrants stay for 2 days before they go on with their route to the U.S. with a train called 'La Bestia', the beast.
LUCY & LLIBERT by Vincent Hannwacker
Germany, 2018, 10min.  A documentary portrait of Lucy and Llibert and their young love.
RIOT NOT DIET by Julia Fuhr Mann
Germany, 2018, 17min.  The fat women and queers in this movie are not ashamed of their expansive body dimensions, but use their bodies to blow up patriarchal structures.
TRACING ADDAI by Esther Niemeier P: Filmuniversität Babelsberg KONRAD WOLF
Germany, 2018, 30min.  A true story about a war and the tragic impact it has on the lives of three people.
Focus Allemagne
Courts-Métrages [Shorts]
KAPUTT | BROKEN - The Women's Prison at Hoheneck by Volker Schlecht, Alexander Lahl
Germany, 2016, 7min. This animated documentary provides a glimpse into the most notorious women's prison in East Germany. A film about political imprisonment and forced labour under the socialist regime.
LA VILLE MONDE | WORLD CITY  by Antarès Bassis
France, Belgium, Germany, 2018, 104min. Array March 2016—facing a huge influx of refugees, the mayor of Grande-Synthe creates the first UNHCR camp in France. The consultant architect, full of idealism and determination, tries to convince those involved to envisage the camp as a neighbourhood; […]
MENNESKESMUGLERNE | HUMAN SMUGGLERS by Poul-Erik Heilbuth, Georg Larsen
Denmark, Germany, 2017, 60min.  A documentary revealing the well-organized world of human smugglers. For the first time some of them will reveal – on camera – the secrets of their trade. (Involved TV Channel ZDF, SVT, NRK, RTS)
...and
BEYONCE by Lisa Dreykluft, Germany, 2013, 5min.
FFRANKFURTER STRASSE 99a | 99A, FRANKFURT STREET by Evgenia Gostrer
Germany, 2016, 5min. A dustman at work. A cat on its ramble through the city. A story unfolds dealing with the rituals of the everyday in just a few clay strokes to unite the form and subject.
HOME AFTER WAR by Gayatri Parameswaran, Felix Geadtke, 
Germany, 2018, 18min. What if home becomes the place you fear? An Iraqi father returns to Fallujah to face the threat of Improvised Explosive Devices. Join him in his home and discover the unfolding of a tragic event.
HOMO MACHINA France, Germany, 2018, 90min. A fantastic journey through the human body factory, inspired by Fritz Kahn's medical illustrations.